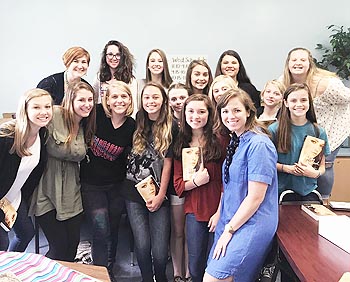 On Friday, May 19, Norris Middle School was privileged to host young adult author Courtney "Court" Stevens for a visit with a few seventh and eighth grade students.

Stevens grew up in a small town in Kentucky and now hails from Nashville. She is the author of "Faking Normal," "The Lies About Truth," the e-novella "The Blue-Haired Boy,"  and forthcoming "Dress Codes for Small Towns."  

The idea to contact Stevens came about because a several NMS eighth grade girls loved her book, "Faking Normal," so much that they couldn't stop talking about it.

A few sneaky staff members, the principal, and the author arranged the visit without announcing it to the students, and Stevens was able to surprise a group of 15 unsuspecting, eighth grade fans, who were first stunned to silence before some actually cried.

These young ladies enjoyed lunch and conversation with the author before she moved to the gym to deliver an inspiring speech for the NMS class of graduating eighth graders.

Finally, Court delivered an empowering talk to 40 seventh grade girls, talking about her unexpected journey to becoming a published author, and encouraging all of us that we can accomplish anything we set our minds to.

Before heading back to Nashville, Court "tagged" the graffiti wall in the NMS library. Feel free to drop by and see it and perhaps you will feel inspired too.