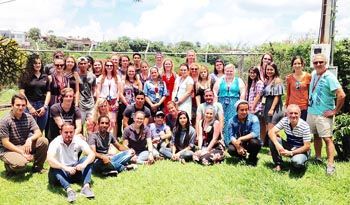 Roane State students traveled to Costa Rica as part of a Service Learning in World Cultures class.

The class consisted of business and education students from Knox, Roane, Campbell, Anderson and Morgan counties.

The students spent the semester gathering school supplies and raising money to ship the supplies to Central America.

During their school supplies drive, the students set up collection booths at Harriman's Princess Theatre and at Roane State basketball games.

The students took 15 boxes of much-needed supplies to Costa Rica.

The students visited four elementary schools and learned about Costa Rica's education system and how the needs of their students are being met.

The Roane State students donated books, supplies, clothes and dental care items.

"These supplies were needed very badly," said Carla Castro who is a teacher at a school in Grecia, which the students visited.

"This school is very poor," she said. "Some of the students have worn-out shoes, and the only meal they get each day is what they eat at school."

On their last day in Costa Rica, the Roane State students visited the Instituto Nacional de Aprendizaje (INA). INA is a form of education that teaches students English and other important skills for the workplace.

Roane State students paired with the INA students for the day to swap language skills and practice interviewing.

"It amazed me to see students thousands of miles away from my home having the same experiences as me," said Roane State student Emily Roach. "It was surreal to learn so much about myself and our educational system through another culture."

The study abroad course was led by associate professor Dave Rath of Maryville and assistant professor Cody Villarreal of Farragut.

Participating Roane State students were: Alex Roberts, Clinton; Baley Henson, Powell; Chelsey Lawson, Jacksboro; Chrystal Fleenor, Clinton; Corey Ridenour, Heiskell; Dillon Harbin, Halls; Emily Roach, Clinton; Jasmine Rogers, Oak Ridge; Landyn Metler, Halls; Montana Pflug, Coalfield; Samantha Davis, Wartburg; Savannah Gray, Clinton; Tanner McGuire, Rockwood; Zoe Hill, Rockwood.

To learn more about the Costa Rica class, contact Dave Rath at (865) 354-3000, ext. 4333 or rathd@roanestate.edu.