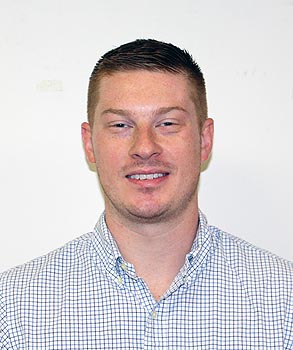 Clinton High School recently named Adam Karnowski as the head coach of the wrestling program.

He is the fifth head coach in five years for the grappling Dragons and he promises to bring stability to the program.

A native of Maryville, Karnowski started wrestling in AAU at the age of 11. He wrestled in middle school and at Maryville High School before graduating and attending the University of Tennessee in Knoxville.

"I pursued a degree in education and coaching had always been a goal. I loved the sport so much it's what I wanted to do in addition to being a teacher," Karnowski said.

After getting his degree, he helped as an assistant wrestling coach at William Blount High School for two years before becoming the head wrestling coach at Maryville High School.



In his one season guiding the Rebels, they had a state champion and a state runner-up — two wrestlers in the finals for the first time in the history of the program.

Karnowski stepped away from education and coaching for a couple of years before getting a job at Gibbs High School last year. He said did not have time to help with the Eagles program but wanted to get back into coaching.

He said his goal is to fill every weight class on the team and start developing the program. Karnowski will teach social studies at Clinton Middle School and he said that's where the future of the program lies.

"One of the most important parts of building a program is to have a solid middle school and youth program," he said.

Depending on the number of kids who participate, the wrestling club at CMS will practice with the team at CHS.

Karnowski met with team and parents last Monday.

"The parents and kids seem very excited and I'm very excited. I think they're happy to have someone who is going to stick around for a while and that's my plan. Stability is so important in building a successful program," he said.

Knowing the coach will be part of the program for a number of years helps develop trust with the wrestlers as well as the parents, Karnowski added.

"This community supports their sports programs and that's so awesome. Stability and trust will bring success."

He also said he has talked to Randy McKamey, head football coach at CHS, about getting more football players involved in the wrestling program.

"It's huge for football — especially lineman. They learn footwork and how to use their hands as well as leverage," Karnowski said.

Although Clinton has sent several individuals to the state tournament, Karnowski said his eventual goal is to get the team into the state tournament.

"Having individual success is awesome— but I want the team to get there [state]," he said.

The team will start their off-season workouts as soon as the dead period ends after the first week of July. Workouts will consist of mostly of weight lifting and building muscle.

"We'll roll around on the mat and drill to keep some of the rust knocked off but nothing real serious," Karnowski said.

Cardio training will begin after school starts and will gradually increase as practice begins in earnest in late October.

The schedule isn't finalized yet but the season will open in late November or early December.