Shots fired at West Broad Street home, no one injured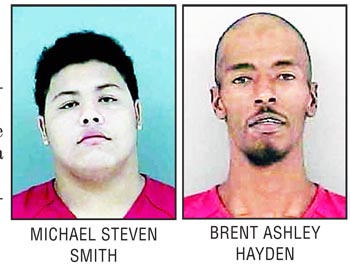 Clinton Police Department investigators are still looking into the events surrounding three individuals charged with shooting into a private home on West Broad Street last week. No one was injured in the shooting.



CPD Detectives arrested 18-year-old Michael Steven Smith, 34-year-old Brent Ashley Hayden, and a juvenile male in connection with the shooting of a West Broad Street residence Wednesday, July 26.

The three were arrested Friday, July 28.

At 4:16 pm, on the day of the incident, an anonymous 911 caller told dispatchers that a male subject, in a black or gray colored vehicle, was shooting a rifle in the direction of a residence.

Upon arrival police found three adults and two minor children in the house.

None of the residents sustained any injuries.

Officers say bullet holes were found in the outside wall of the residence as well as in a vehicle parked nearby.

Friday's arrests were made, without incident, within 48 hours of the shooting.

The suspects are facing various charges including several counts of reckless endangerment with a firearm and unlawful possession of a firearm.

Hayden is also charged with unlawful possession of a firearm by a felon.

Both adults are being held on $20,000 bond at the Anderson County Detention Facility.

The juvenile is incarcerated at a Knox County facility.

The investigation is ongoing.