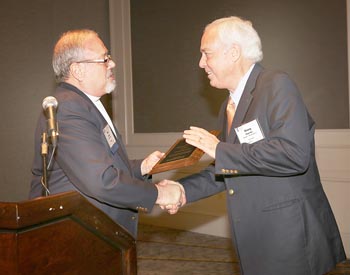 The Courier News won first place in the "Headline Writing" category, it was announced during the July 21-22 Tennessee Press Association (TPA) summer convention in Franklin.

It is the newspaper's first "first place" award for headline writing after finishing in the top three in 2016.

The Courier News also garnered a fourth place award for a column by Ken Leinart in the "Best Humor Column" category.

Doug Horne, owner of The Courier News, was honored with the 2017 TPA President's Award for his support of the Tennessee Press Association.

Horne was also re-elected as vice president of the association. He is slated for the presidency of the TPA in 2018.

Another Horne publication and sister paper to The Courier News, farragutpress, became the first "free newspaper" to be accepted into the TPA, it was announced.

The farragutpress petitioned for admittance to the TPA in June, 2017.

"We were excited when the Tennessee Press Association voted to accept free newspapers into its membership. The opportunity for the farragutpress to become a member of this valuable trade association is one that we've desired for years. Becoming the first free newspaper to be approved for membership was very special," said Tony Cox, President of Republic Newspapers, Inc., and publisher of the farrragutpress.

The farragutpress published its first publication on Sept. 13, 1988. The newspaper serves Farragut and West Knoxville and has a weekly audited circulation of 14,840 copies.