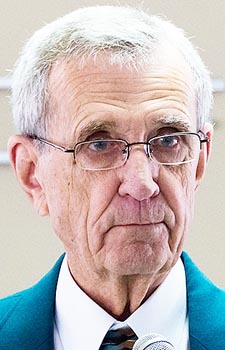 On Monday, the Anderson County Commission appointed Bob Smallridge to fill the vacant 8th district seat on the county's 16 member commission. Smallridge, a former Oak Ridge Schools superintendent, was appointed to the position by a majority vote, with eight of the 15 commissioners voting for him: Commissioners Phil Warfield, Mark Alderson, Steve Mead, Phil Yager, Steve Emert, Tim Isbel, Shain Vowell, and Whitey Hitchcock.

The resume Smallridge submitted for the position contains an extensive array of government experience. A partial list of his professional and civic memberships include serving as a board member and treasurer on the Oak Ridge Chamber of Commerce, as a co-chairman for Anderson County United Way, as president of the Board of Directors Clinch River Home Health, past president of Oak Ridge Retired Teachers, a member of the Board of Directors for Oak Ridge Public Schools Educational Foundation, a member of the Anderson County Chamber of Commerce, vice-chairman of the City of Oak Ridge Senior Advisory Board, a member of the Southern Association of Colleges and Schools, an alternate foreman for the Anderson County Grand Jury, and a current member of the Anderson County Charter Commission.

During the election for Anderson County Charter Commissioners, Smallridge received the most votes of any candidate seeking a spot on the Charter Commission, beating his opponent Kathy Moore, former mayor of Oak Ridge, in the 8th District race by more than 1,000 votes.

At the Commission meeting Monday, he told Commissioners his experience serving on the Charter Commission in the past year had given him a good "feel for county government."

"I think it's important for county government and municipalities to continue to work together. I would certainly be an advocate for continuing this," Smallridge stated.

When asked by Dist. 7 Commissioner Theresa Scott if he was considering running for the 8th District commission seat once Iwanski's term expires in Aug. 2018, he said he was undecided.

"I'm not sure. It would be based on how well I thought I was doing," he said.

The 8th District seat on commission was left open by Myron Iwanski earlier this year when he resigned to serve as the county's interim trustee, replacing Rodney Archer, who is taking a job with the state.

In all, four people submitted resumes for the vacancy. They were Smallridge, Harold Trapp, David Mosby, and Nathaniel Varner.

It took commissioners six rounds of voting to get the final vote, which was Smallridge getting the eight majority votes, Trapp receiving 4 votes, and Mosby receiving 3. Varner was eliminated earlier in the voting process, but not before giving a rousing speech to commissioners explaining his reasons for running.

Smallridge was subsequently sworn into office by County Clerk Jeff Cole following his appointment and immediately took his seat on commission to begin his duties as public official and representative of the 8th District.