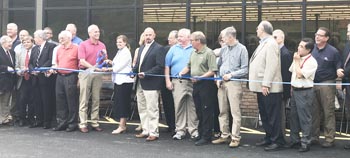 The grand opening for the new Tennessee College of Applied Technology (TCAT) facility in Andersonville was held last Wednesday.

The event, which was open to the public, took place at 10 a.m. with a ribbon-cutting ceremony and tours of the site.

The Hensley family of Anderson County donated the building in Andersonville to the state for use, rent-free, as a temporary training facility, until the permanent TCAT building can be built in the I-75 Industrial Park in Clinton. County officials say SL Tennessee donated land in the industrial park for TCAT use.

"The demand for classes was high, and in large part thanks to the generosity of the Hensley family, TCAT was able to offer classes quicker by taking advantage of the free rent offered by the Hensley family. Once a new facility is built, the equipment will move to the new facility and plans are for the renovated facility to remain an educational facility with different classes/training," said Anderson County Mayor Frank, in an email early this week.

Frank was one of a number of county officials who attended the ceremony Wednesday.

Although the renovations are complete at the Norris/Andersonville TCAT site, classes are not slated to begin until Jan. 1, 2018.

Construction on the Clinton facility is scheduled to begin in late March of 2019, with an end target date of mid-June 2019.

"Right now, they have moved from pre-design scoping to the programming phase," Frank said.

Asked why the new, permanent facility is being built in Clinton, Frank said, "a larger area was needed for a full campus and the required parking area. The site was chosen in Clinton thanks to the generosity of SL Tennessee. They donated the land the new campus will be built upon."

At the ribbon cutting Wednesday, Frank thanked TCAT representatives, local and state officials, and community partners for their work in making this project a reality: Gov. Bill Haslam "for his team approach," Lt. Gov. Randy McNally for his continuing commitment to expanding industrial and economic growth in the area, representatives of the state legislature, Economic and Community Development officials, Tennessee Board of Regents, Anderson County Schools Director of Schools Dr. Tim Parrott and former Director Dr. Larry Foster, ACEDA representatives Greg Fay and Tim Thompson, and Dwight Murphy, Director of Knoxville TCAT.

TCAT's mission, stated Frank, is "a mission to educate and empower the people of our region. TCAT facilities open doors for the people of our region. The training and skills they teach provide opportunities that may have never existed before."

TCAT Andersonville, located at 3310 Andersonville Highway, is an extension of TCAT Knoxville and is a post-secondary institution that provides career and technical education.