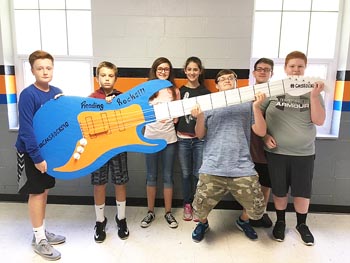 It's hard to believe we are already days away from Fall Break. There is so much positive going on at Clinton Middle School, we just have to share.

This has been a busy and productive nine weeks for the CMS HAWKS!

Our Explore to Soar after school program is serving students before and after school. This is a free opportunity for all CMS students.

Many CMS students are already enrolled, but we hope to see more students participate in this great opportunity to receive an after school snack, homework help, physical activity, and engagement in an enrichment program of their choice.

Our staff is offering everything from cooking, scrapbooking, gaming, soccer, hacky sack, service clubs, and many more fun enrichment activities each day.

CMS athletics and clubs have been working hard and doing great things.

Our Volleyball Lady Hawks finished third in the District Tournament following a stellar season.

And our Football Hawks will compete for and host the District Championship on Thursday at 7:00.

If you haven't seen it, we boast the BEST middle school student section in the area. Our dedicated Hawk Nation is as strong as ever. And they've seen a lot of help during football season from appearances by our Pep Band.

Our Yearbook staff is hard at work capturing all the activities at CMS.

Our Chorus students are rehearsing daily and filling the related arts hallway with beautiful music.

Our students in the Teacher Assistant Program are working daily to support teachers in the classroom.

Academically, students are working to master the TN State Standards through relevant and rigorous tasks.

In all grade levels, students are being encouraged to question and make connections for a deeper understanding of the content being presented.

A group of outstanding 7th grade math students are engaged in a book study to begin working on a student driven data initiative.

Students are setting personal goals to increase literacy through participation in the 40 Book Challenge, which now, in its second year, has taken on the mantra READING ROCKS!

Seriously, come see our huge guitar.

Our students are picking out books they love and seriously rocking it.

The CMS Library has circulated nearly 4,000 books, and our students have logged a staggering 2,387…and counting… books of choice.

And it is only October.

This is just a glimpse of the great, positive things happening each day at CMS.

We hope you'll stop by and see the amazing things happening at your hometown middle school. Our doors are always open to all of the communities we serve.

Please be on the lookout for our monthly newsletter, which is distributed to parents and community members each month via email. If you don't get it, send an email to Kevin Powers (kpowers@acs.ac), and we'll get you set up.

Also, follow Clinton Middle School on Twitter @cmshawks.