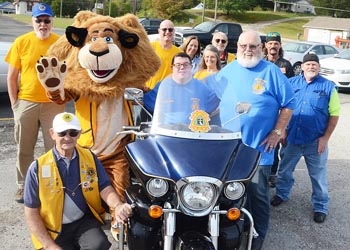 It is a cause that almost never was.

Saturday morning members of the Clinton Lions Club held a fundraising and awareness ride for a condition that, until just recently, nobody knew existed.



"It's called 'diabetes unawareness,' and physicians have just recently starting learning that some deaths attributed to Type I Diabetes could have been prevented," Robert Jones, father of 32-year-old Michael Jones said.

Michael is a Type I Diabetic. Until about a year ago he could tell when his sugar levels were dropping, or going high.

Dangerously high.

Last year Michael was in an Intensive Care Unit because suddenly he couldn't tell when his blood sugar levels had gotten high — as in a 900-plus reading.

"Even though Michael is special needs, he still could always tell when his sugar was getting high," his mother, Kathy Jones, said.

Dr. Elaine Bunick, who specializes in Endocrinology, Diabetes and Metabolism and Diabetes, caught Michael's condition.

"It's becoming more and more prominent," Robert said.

The Clinton Lions Club has taken on the task of making people aware of this condition because it's relatively new and misunderstood.

Take Michael. For 20-plus years he has been a Type I diabetic and he could always tell when his sugar levels were off and could always correct them.

But not anymore.

While getting the word out about Diabetes Unawareness the Lions Club is also raising funds for Michael to get a service dog that can alert him when his sugar gets out of balance.

"When his sugar goes above 150 the dog will alert him," Robert said. The problem is a service dog costs $15,000. That may sound expensive, but not when it comes to saving a life.

If you would like know more about Diabetes Unawareness you may contact any member of the Clinton Lions Club and they can put you in touch with a person who can answer your questions.

"Just getting the word out … That's important. It was terrifying for us, as parents, when that happened to Michael," Robert Jones said.

The event was held at Fox's Steak and Grill, 3620 Lake City Highway in Rocky Top.