Hammer's celebrates 75th year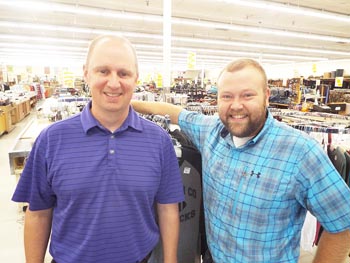 Hammers — known about town as 'Clinton's Most Unique Store' — celebrated its 75th year in business last week with a two-day 75th anniversary sale that began last Thursday, Oct. 5, and ended on Friday, Oct. 6.

"We're having the anniversary sale to remind people we're still here, still in business, and that we greatly appreciate their business because if it weren't for our customers we wouldn't have stayed in business this long," said Margaret Ann Calhoun, daughter of Bernard Hammer Sr. and Helen Hammer, the original founders of the Hammer's store in Clinton.



Margaret Ann and her mother Helen Hammer were interviewed Thursday for the store's 75th anniversary sale.

Helen, a sprightly 95-year-old, still does the books and goes into work almost every day because she loves her job.

"I've got to be doing something, so I come into work most days," said Helen. "I love what I do."

The store got its start in Guntersville, Ala., in 1942, when A.B. Hammer Sr., who had a background working in retail stores like Watson's and Dobson's, decided to go into business for himself.

Hammer rented an empty building in Guntersville, and with the assistance of his son, Bernard, the store grew with additional store locations sprouting up in North Alabama and Tennessee, and throughout the years, and new locations were established by later generations of the Hammer family.

There are 10 stores currently in operation: Clinton; Knoxville; Sevierville; South Pittsburgh; Wartburg, and Winchester in Tennessee, and Fort Payne, Oneonta, and Scottsboro in Alabama. All of the stores currently in operation are, or have in the past, been managed by family members: Bernard Hammer, Helen Hammer, Will Hammer, Kelly Calhoun, Tanya Calhoun, Don Calhoun, Margaret Calhoun, Jeff Hammer, and Billy Sue Hammer.

Today, the children and great-grandchildren of Bernard Hammer run the store, but the original idea has stayed the same: Hammer's is and remains a bargain hunter's paradise.

At every Hammer store location, shoppers can find a mixture of merchandise, from top of the line work wear and hunting gear, shoes, boots, home decor to accessories, and seasonal florals—all at closeout prices.

Asked why Hammer's has stayed in business so long, Margaret Calhoun attributes the business's longevity to the teamwork of her family and friends who help manage and operate all the stores.

"It's a team effort," she maintained. "It took the work of all of these people to make sure things have been around for 75 years."

Much has changed over the years in the way things have been run; yet much has stayed the same.

The Hammer's still do at least two trips a year to New York to buy merchandise, but they also attend plenty of trade shows.

"We don't do salvage anymore," explained Margaret.

The challenge is to keep up with the contacts they have developed over the years in the retail business, but also to keep branching out when they can, said Calhoun.

"We try to make sure we've got a variety of merchandise and that it changes on the floor all the time to give customers something new," she said.

About 50 to 60 employees currently work in the stores.