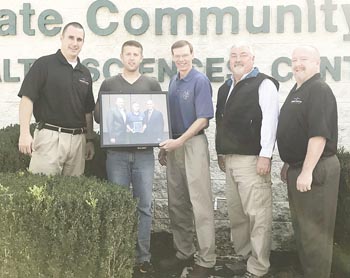 What's hoped to become an annual tradition has been launched at Roane State's Knox County Center for Health Services.

For the past year, a framed 16 by 20-inch photo of the program's 2015-2016 "Paramedic Student of the Year" had been prominently displayed in the front of the classroom along with two plaques emblazoned with the names of the past 26 years of recipients.

Now, that photograph is going to go home with the honored individual.

David Blevins, program director, said the first framed photo was recently presented to Grady Rowe, the winner of the 2015-2016 award.

As part of the new tradition, Rowe was asked to return to the Knox County Center and update his former educators on what he has "been up to" for the previous year and how his education has impacted his career since graduation, Blevins said.

In addition to his full-time position as a paramedic/firefighter with Rural/Metro Fire Department, Rowe serves as a member of the Detachment 1 Co C 1-171st Aviation Regiment at McGhee Tyson Air National Guard base. He has also completed the Army NCO Academy, where he was one of the top graduates.

"He has faced several significant calls since completing the program," Blevins said, "including a walk-in to the fire station that resulted in (the patient's) immediate transportation to the hospital and admittance to the cardiac cath lab."

The Roane State Community College "Paramedic Student of the Year" award is presented annually to an individual from the class chosen by his or her fellow students via secret ballot.

The award is presented at a special banquet held at the completion of the program.

The banquet is hosted by TeamHealth, a hospital staffing firm that provides emergency department physicians for several area hospitals.

To learn more about Roane State's EMT and paramedic programs, visit roanestate.edu/ems or contact David Blevins at (865) 354-3000 ext. 4768 or blevinsds@roanestate.edu.