Unknown number of animals lost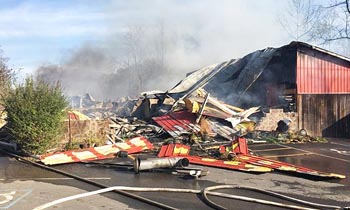 Anderson County Sheriff's deputies along with fire crews responded to a barn fire shortly after noon Monday, Dec. 4, at Little Ponderosa Zoo and Rescue on Granite Road near Clinton.

All five of the county volunteer fire departments were called to the scene: Medford, Briceville, Andersonville, Marlow, and Claxton; as were Anderson County EMS and Anderson County Emergency Management. The Tennessee Wildlife Resources Agency also responded to assist.

Zoo personnel were able to evacuate some of the animals to safety.

All of the remaining animals are safe and contained.

Veterinarians were on-scene treating injured animals. Only minor injuries were reported by zoo workers, which were received during the evacuation. They were treated at the scene by EMS.

One firefighter was taken to Methodist Medical Center of Oak Ridge for a minor injury sustained fighting the fire.

Owner and founder of Little Ponderosa Zoo and Rescue, James Cox, said the state fire marshal inspected the damage Tuesday morning and told him where the fire originated, but could not determine a cause — but that it is believed to have been accidental.

"We have heat lamps, heat rocks, those sort of things when we winterize the animals," Cox said. "It could have been something like that."

Cox also said zoo workers noticed the fire and within "seconds" it had spread, taking the main entrance and the barn enclosure attached.

A small cage next to the barn also burned.

The fire is believed to have begun in the back left corner of the structure.

Cox said zoo staff and volunteers will sort through the damage and at that time he will have a full count on the number of animals that perished in the fire.

"We'll find them as we clean up," he said.

Many of the smaller animals perished.

The aftermath:

Cox hasn't had a dry-eyed moment since learning about the fire.

"I'm devastated. I just wish I would have been here," he said.

Cox spends a lot of time on the road, checking on animals that may need rescued, securing donated food, setting up activities away from the zoo.

Monday was such a day.

In reality, zoo worker Linda Ripley said, Cox's presence wouldn't have made much of a difference. Once the fire started it fanned out "in seconds."

The outpouring of support from Anderson Countians has been massive. Facebook posts asking for donations increase the amount pledged every 60 seconds, calls from well-wishers and volunteers have flooded Cox since the news hit social media Monday afternoon.

"I haven't had time to process it yet," Cox said. "This has hit me so hard."

On Monday, Bradley Swida, who had just arrived from Florida, pulled into the Little Ponderosa Zoo and Rescue compound to apply for a job.

Swida had worked at zoos in Florida.

As soon as he pulled in he started helping out.

As of Tuesday at noon Swida had not left, but has stayed at Little Ponderosa helping in any way he could, mostly cleaning up at the present.

"That's his truck right there," Cox points to a truck in the parking lot. "It hasn't moved since he got here. I haven't even had time to talk with him about hiring him.

"He just started helping out."

Tuesday morning volunteers pulled in to help any way they could.

A large, "circus-type" tent has been donated and will be set up later today to temporarily house the animals that were rescued from the barn.

People have brought bottled water for the volunteers, food for the volunteers and the animals, monetary donations, as well as pledges from businesses to help in the future.

The future:

Tuesday morning James Cox said he doesn't know if he'll rebuild.

He doesn't know if can.

"That's 30 years of my life right there," he says pointing at the remains of the structure.

"I may be too old to start over. I may not have the money to start over."

It's Tuesday. The sky is grey and it's raining. James Cox hasn't slept in more than 24 hours and his emotions are raw.

But then Liz Cochran of Andersonville pulls into the parking lot of Little Ponderosa Zoo and Rescue and hands Cox two large bags.

"It's deer meat," she says. "I thought you might be needing it."

Cox's eyes become moist as he thanks her and hands the meat to a zoo worker.

"Thank you … This means a lot," he says.

Another item lost: The facility's large freezers for keeping meat for the animals.

Another item volunteered: A large freezer for keeping meat for the animals.

Will Little Ponderosa Zoo and Rescue rebuild?

"I've been asked that a lot," Cox said. "Right now … I don't know."

But Cox hasn't seen the social media posts, hasn't heard the buzz around the county that Little Ponderosa Zoo and Rescue is not just wanted back, but needed.

But Cox pushed the emotional shock and the fatigue away long enough to get with Ripley and make plans on where to house the displaced animals and how best to feed them.

It's a sign for the future.