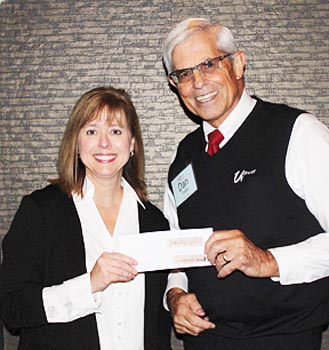 Clinton City Schools received a $3,900 mini-grant from Utrust to fund a program to honor and express appreciation to school employees who greatly impact the lives of students in Clinton City Schools each day.

Clinton City Schools Superintendent Kelly Johnson applied for the mini-grant to show in a tangible way that each staff member is essential to the success of the school system in providing a quality education to students in Clinton.

Johnson wrote in the grant application, "It is important that we recognize that each team member plays an important role in the overall success of our system. We want to show staff members that they are a valued part of our culture and organization. Recognition of staff members should be an ongoing part of the culture and should occur everyday in some way. However, the projects mentioned above give us the ability to do some organized events that show public appreciation for their enthusiasm and dedication. Our ultimate goal is to retain effective employees who feel valued at Clinton City Schools."

Dr. Dan Tollett, Utrust administrator said, "We are pleased that Utrust is able to provide funds through our mini-grant program to fund small projects that will make a big difference. We believe this project will make a big difference to employee morale in Clinton City Schools. We appreciate Mrs. Johnson submitting this request and we're glad to be a part of such a worthy project."

Utrust is an organization that assists school systems in Tennessee in managing unemployment issues and in recognizing, supporting and appreciating school employees. It sponsors the Utrust Appreciation Program that seeks to help to ensure that every student and staff member is appreciated and in turn is intentional about expressing appreciation to others..

Clinton is one of 51 school systems in Tennessee that have received Utrust mini-grants totaling more than $2.8 Million in the last three years to improve educational opportunities for students.

The mini-grant program offers an opportunity for member school systems to apply for funds for small projects that might not otherwise be funded.