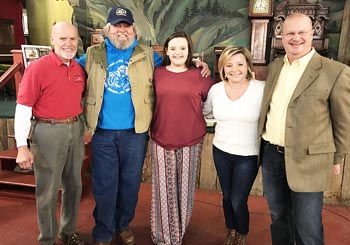 Saturday night's fundraiser at the Museum of Appalachia for Little Ponderosa Zoo and Rescue was a big success — even if you take away the $7,000 raised.

It was a show of support and appreciation.

Among the auction items was a playground set. It was bought in the auction and turned over to owner James Cox, to be used at the zoo and rescue.

It was just one of a number of contributions the zoo has received since a fire destroyed the main barn entrance to the zoo Dec. 4, taking the lives of at least 40 animals.

Several individuals have set up Facebook accounts to take in donations to help rebuild the facility.

And Saturday's function was not the first fundraiser for the zoo — nor will it be the last.

On Dec. 29 a "Benefit Fashion Show" was held at 205 Main in Clinton. The show was part of Knoxville Fashion Week.

On Dec. 30 Little Ponderosa held a one day opening and memorial service for the animals that perished in the Dec. 4 fire.

Prior to the Dec. 30 ceremony a pancake breakfast was held at Longhorn Steakhouse, Parkside Drive, Knoxville.

And on Jan. 20 Clinton's WYSH radio is sponsoring a fundraiser featuring Wild Blue Yonder. A location has yet to be determined (tune into WYSH for more details). One-hundred-percent of the proceeds will go toward the zoo's rebuilding project.