Red Johnson's Auto Parts garage burns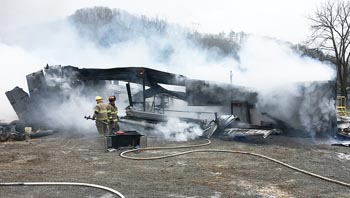 On Wednesday, March 21, a devastating fire engulfed the main garage in which Red Johnson's Auto Parts' employees apply their trade.

Snow fell that day and the promise of Spring was interrupted by a cold front, but according to Joyce Gunter, who owns Red Johnson's with her husband, A.J., the heat of the fire could be felt in the office building which sits roughly 40 yards away from the garage.

Red Johnson's Auto Parts is a family owned business that has been serving the Powell, Claxton, and Clinton communities since December 2013.

A.J. Gunter is a veteran that served two tours in Iraq: one for 18 months and one for a year.

Joyce stated that when A.J. saw smoke coming out of the building, instead of running away, he ran into the building, rescuing a few very heavy tool boxes.

Proper authorities were immediately contacted. Rural Metro and the Claxton Volunteer Fire Department were two departments that helped fight the fire.

But the first sign of help to arrive was family friend, Zach Johnson.

Johnson is a volunteer fire fighter at the Claxton Volunteer Fire Department.

He was working at home when he received the call from A.J. Jr., the son of A.J. and Joyce.

Without hesitation, he was out the door.

According to Joyce, "Zach was on his hands and knees fighting that fire by himself."

Johnson was exhausting every resource he had. From extinguishers to the hose from the fire truck he came in, but still the fire grew.

When CO2 tanks and air compressors began exploding, access to the inside of the building became impossible.

Matt Johnson, of Lambert Auto Parts, was another first responder on the scene. Lambert Auto Parts is only a few miles up the road from Red Johnson's. He and a few other Lambert employees helped any way they could.

People from all over the community rushed to Red Johnson's to offer a helping hand.

The fire was extinguished at about 4 P.M.

The hectic flurry of fire fighters working feverishly to extinguish the fire began to thin out and the family, including children, children's children, and numerous family friends and employees were left to take in the whole scene.

The fire likely started with a car on a lift in the garage but the exact cause is still uncertain.

"People don't know how devastating it can be. We lost almost everything." Joyce said.

The Gunters could hardly express in words how grateful they were to everyone that helped in their time of need, not to mention that nobody was hurt.

The community response that day exemplified how tight knit a community the Gunters are apart of, and also how valuable being apart of a community like that is.

Joyce pointed out that the fact that employees from a competing business, in Lambert Auto Parts, were some of the first people to show up, speaks volumes about the type of community they live in.

Matt Johnson has also volunteered his time to help the Gunters clean up the site and scrap the materials.

Upon arriving at Red Johnson's a few days after the fire to speak with the Gunters, it was apparent that spirits could not be broken.

Children were playing, employees and family members were cooking together and everyone was contributing.

In the face of adversity, it is businesses like these, with close ties to community and strong family bonds, which overcome such tragedy.

If you would like to help the people of Red Johnson's Auto Parts recover, you can do so at https://www.youcaring.com/ajgunter-1141159 and at www.gofundme.com/help-for-red-johnson-fire.