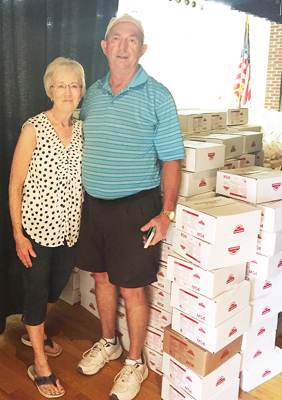 For the second year in a row, Clinton Middle School, in association with the student-led club Hawks Helping Others, has partnered with Second Harvest of East Tennessee and Zion Baptist Church of Powell to bag and deliver food items for children and families in all of the communities CMS serves each week of summer vacation.

Students and staff stayed at school on May 24, on the first official day of vacation, to welcome the Second Harvest truck. Students displayed "welcome" signs and worked with CMS staff and administration to unload, separate, and bag two pallets worth of food items covering all four food groups.

According to a statement from Hawks Helping Others, "Second Harvest of East Tennessee makes it easy for schools to get food for kids in need. It is basically the same premise as the 'Backpack Program' we run throughout the year, which provides food once each week."

"Last year this was organized through Sam Compton of Second Harvest. We contacted him again this year to see if the same program was still available and luckily it was available. This type of service is good for many reasons. Putting food into the hands of students is wonderful. Seeing the students and talking to their families builds relationships between the school, students, and families."

The food will be distributed throughout the summer and can feed 100 children per week. It is to be delivered each Wednesday afternoon by CMS staff and other volunteers.

In addition to the Second Harvest donation, Clinton Middle School received more boxes of food on Tuesday, May 29.

Each box contains three ready-to-eat meals and snacks from Zion Baptist Church.

CMS and Hawks Helping Others owe many thanks to Zion Baptist for always being committed to our students in the Clinton and Claxton area. Any time we have food to be picked up (no matter how large the quantity is), they are there.

Lois and Bob Dougherty of Zion Baptist delivered and unloaded boxes in the pouring rain last Tuesday.

Lois Dougherty has a true talent for giving. She has operated food pantries in the past, and she brings a keen perspective to everything with which she is involved. She knows what food items work for families with children. According to Lois, "The rain doesn't bother me. I'm anxious to get the food out to our area kids."

CMS and Hawks Helping Others also greatly appreciate and would like to thank CMS Principal RaeAnn Owens.

She welcomed the huge food pallets into her school with open arms. She always gets the resources we need to make food deliveries happen. She is always helping our kids.

Last year, Rouse Construction donated $3,000 to feed Clinton and Claxton area kids, allowing CMS to put a very practical basket together that would stretch over the course of the summer.

Going forward, CMS and Hawks Helping Others hope to expand the Summer Food Program.

A representative stated that "We have typically focused on summer because it is a time when the students aren't at school for breakfast and lunch. We are hopeful that we will secure a donation to purchase much needed food baskets for area students throughout the year."

CMS looks forward to more of these partnerships in the future and also to a fun summer of enriching community spirit and making relationships with a long-lasting impact.