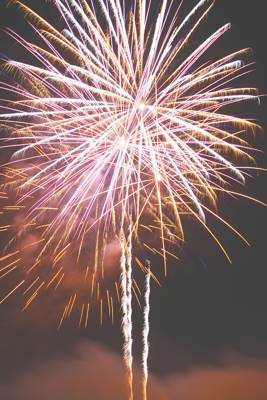 There are events spread throughout the day on the 4th of July.

From early morning fun runs and bike parades in Norris to fireworks displays at night — there is a lot happening

to celebrate the Fourth in Anderson

County.

The City of Clinton 4th of July celebration

will begin at 5 p.m. and end with fireworks at 10 p.m. at Lakefront Park.

The fireworks will have music coordinated with the show and may be heard on AM 1380 and FM 101.1 WYSH Radio.

During the festivities Backyard Bouncers will have a module bounce house, bungee run, all stars basketball game, rock climbing wall, I Xtreme obstacle course, 22-feet, two-lane tsunami

water slide with slip-n-slide, race car combo with water slide, human hamster balls, pirate bounce house, and "trackless train" that are available for the public with no charge (you must have a wrist band to ride).

There will be laser tag for those kids who are up for the challenge with no charge (sponsored by Anderson County Chamber of Commerce)

There will be a game setup for video games for those kids looking for video game excitement witih no charge. (Sponsored by Faith Promise Church-Anderson Campus).

Food vendors such as Pizza Express, Riverview Grille, Coldwater Farms, Hibachi

Truck, and Sweet P's Snowcones will be setup in the Lakefront parking lot by the Tennis Court area.

"John Fee & Honky Tonk Playboys" and "The Parrott Brothers" will be playing from 5 – 9:45 p.m., sponsored by Ray Varner Ford and The City of Clinton. The music will be setup on the women's field at Lakefront Park.

There will also be antique cars for show from The Clinton Chapter of the Antique Automobile Club of America.

The Norris Lions Club brings you the Annual Norris Day celebration

in downtown Norris.

Running enthusiasts can begin

the day with the Firecracker

Road Run sponsored by the Norris Recreation Commission.

Later the children's Dog Show will be held on the Norris Commons, followed by the one-mile Fun Run. No one will want to miss the children's Wheel Race, the Bicycle Parade, the Water Balloon Toss or the Water-

Ball Battles.

There will be sack races and duck races, too. One of the highlights of Norris Day is the barbecue dinner — barbecue pork and chicken with all the sides served by the Norris Lions

Club in the Norris Middle School cafeteria from 11 a.m.- 2 p.m. Norris Day will conclude with a fireworks show.

The City of Rocky Top presents

its 2nd Annual 4th of July Bash in Memory of Tiny Houck.

Once again, the City hopes to bring the community together for a day filled with fun and excitement,

which will begin with a Kids' Parade. Kids of all ages can decorate non-motorized bicycles,

scooters, strollers, wagons,

wheelchairs, or just simply march through the parade to the ball field. Registration for the Kids' Parade begins at 1 p.m. in the parking lot of SunTrust

Bank and kids will march down Main Street to the Ballfield,

where they can play the rest of the day away.

There will be bounce houses, an even larger water slide, obstacle

course, a BIGGER rock wall, 4 Euro-bungees (trampoline),

trackless train rides, the Little Ponderosa petting zoo, music, cotton candy, snow cones, and popcorn…all for free. Plus, stars like Spider Man, Captain America and Rocky Top's own Elvis will make appearances.

There will also be new food vendors and food trucks, and the Matthew Hickey Band will be playing from 8 p.m. through the end of the fireworks show, which will begin at approximately

10 p.m.

City Hall will host a car and motorcycle show from 2 – 8 p.m., and Knoxville Harley Davidson

will be on site from 2 – 5 p.m. To participate, it's $15 per motorcycle and $25 per car.

The Oak Ridge Community Band will put on a concert followed

by the annual Oak Ridge City Fireworks Display.

Bring your lawn chair or blanket for outdoor seating. Concert begins at 7:30 p.m. and is a free concert but donations are gratefully accepted to help offset expenses. Fireworks will begin at dark, around 9:45 pm. The concert and firework show will take place at A.K. Bissell Park.

And if that's not enough, there's an anvil shoot at the Museum of Appalachia.

Anvil shooting used to be a fairly common way that rural

folks celebrated special events–they "shot the anvil" to celebrate the nation's Independence,

Christmas, and even Davy Crockett's election to the U.S. Congress. Some years ago, two men, each more than 100 years old, watched the Museum's

anvil shoot and recalled this tradition from their early boyhood. The Museum of Appalachia

celebrates Independence

Day by launching a gunpowder-

filled anvil high into the sky. "Anvil shooting" was once a common way for pioneers to celebrate special events.

Anvil shoots will occur on July 4 at 10 a.m., 11 a.m., noon, 1 p.m., and 3 p.m.

The anvil shoot is the centerpiece

of a celebration that includes

a bell-ringing ceremony, flag procession, old-fashioned games, music, and demonstrations

from beekeepers, blacksmiths,

and patriotic re-enactors.