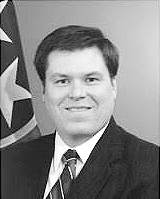 Dave S. Clark, 7th District Attorney General, serving Anderson County, has been elected by the members of the Tennessee District Attorneys General Conference (TNDAGC) to serve as the organization's Vice President.

In his role as Vice President, Clark will help lead the administration of Conference responsibilities, including budgeting, accounting, payroll, personnel and property management for all District Attorneys' offices statewide.

"To serve as Vice President of this Conference is an honor and a responsibility I do not take lightly," Clark said. "I am looking forward to working with the others on the Executive Committee."

"General Clark is an excellent choice for Vice President of the Conference," said Executive Director Jerry N. Estes. "He exemplifies the spirit of the Tennessee District Attorneys, and I have no doubt that he will use the same dedication he has for Anderson County as the Vice President."

Clark, a native of Anderson County, earned his bachelor's and MBA degrees and juris doctorate from the University of Tennessee. He has practiced law in Nashville and in Anderson County, and was elected to two terms as Anderson County Attorney prior to being sworn in as District Attorney General in 2006.

He is married to Judge Josephine Clark, and has two children.