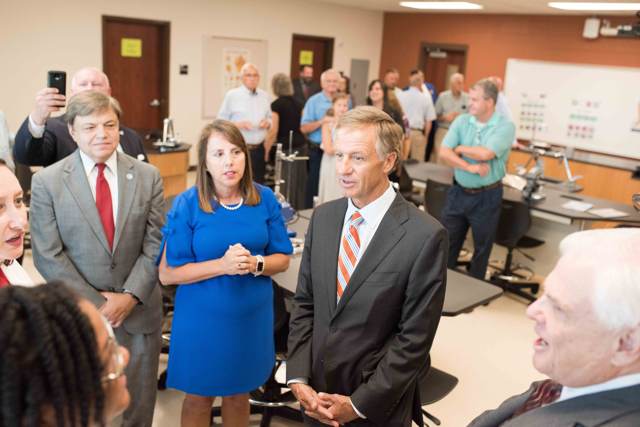 Even before Gov. Bill Haslam did the ribbon-cutting honors, Roane State's new science lab on its Campbell County campus is proving its worth.

Upcoming fall semester classes where lab study is required "are already filled," Gov. Haslam told a large crowd celebrating the vitally needed addition during a July 5 ribbon-cutting ceremony.

"This meets a direct need we have here in Campbell County for more exposure to the sciences," Gov. Haslam said while touring the lab. "I'm thrilled we were able to meet that need."

Before the addition, Campbell County students who needed science classes that included lab work had to drive to another Roane State campus to fulfill that requirement.

"I can't help but believe that this inconvenience must have had a chilling effect on college completion," State Sen. Ken Yager said.

Now, those students can complete lab courses in their community.

Sen. Yager said he and State Rep. Dennis Powers tried for three years to obtain state funding for the lab and two classrooms, and the third time was the charm via an amended budget resolution. Obtaining that $1.1 million in funding "was our Number 1 project," Yager said. "We are persistent. We don't let go."

When the two lawmakers saw the amendment included the appropriation for Roane State, "we were just ecstatic," Powers said. "The state invested in the students and their future."

"Education changes lives," Roane State President Dr. Chris Whaley told the crowd, "and we want every student to have that experience in their community."

The 4,400-square-foot addition includes the state-of-the-art science lab along with two classrooms. It will enable Campbell County students taking Roane State courses in chemistry, biology, and anatomy and physiology to fulfill their lab requirements on site. The addition was designed by Community Tectonics and built by Danco Inc.

Construction began in August 2017 and boosts the Roane State presence in Campbell County to 22,400 square feet with 11 classrooms and two computer labs.

The Roane State building on Independence Lane in LaFollette is named in honor of retired banking executive Ed Wheeler, who was instrumental in initial community efforts to raise $3.5 million to pay for it.

Wheeler also donated the nine-acre tract for the campus, located at the base of the Cumberland Plateau. The effort included a $1.25 million bequest from the late Lillian Michaelis.

Since the permanent Roane State campus was finished in 2007, enrollment numbers have grown, Whaley said. There are about 400 students now enrolled.

Tracy Powers, director of Roane State's Campbell County campus, said upcoming enrollment is up some 10 percent, including an increase in high school students taking dual enrollment classes.

"Roane State is part of the Campbell County family," said County Mayor E.L. Morton. He said his father was part of the faculty, while his son graduated from Roane State last year.