Shake up in Dist. 3 on County Commission with two new faces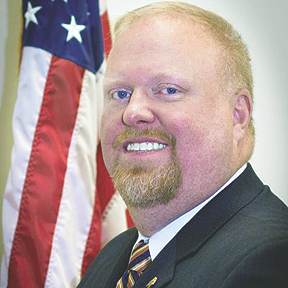 Russell Barker

Russell Barker was elected as the next Anderson County Sheriff, beating out Mark Lucas, in the Thursday, Aug. 2, election.

Barker received 7,685 votes — about 58-percent of ballots cast — to Lucas' 5,613 votes, about 42-percent.

In the County General Election, Incumbent Mayor Terry Frank held her position, receiving 90 – percent of the votes, facing competition from write-in candidates C.J. Mitchell and Donnie Rosenbalm.

Chuck Fritts and Tracy Wandell both retain their seats on the County Commission, representing District 1.

Representing District 2 on County Commission will be Robert Jameson and Rick Meredith.

Representing District 3 are Joshua Anderson (1,222 votes) and Denver Waddell (881 votes). Incumbent Commissioner Philip Warfield finished third in the race.

Tim Isbel and Shain Vowell have both retained their seats on the County Commission from District 4.

District 5 will continue to be represented by Robert McKamey and Jerry White.

Catherine Denenberg and Steve Mead will represent the 6 District on County Commission. Representing District 7 for County Commission will be Jerry Creasey and Theresa Scott.

Bob Smallridge and Phil Yager both retain their seats on County Commission, representing District 8.

Regina Copeland beat out Ebony Capshaw for the position of County Trustee.

Rex Lynch faced competition from write – in candidates Robert Fulton and Alden Souza in the race for Circuit Court Clerk, but won with 83 – percent of the votes.

Jeff Cole ran unopposed in the race for County Clerk and Tim Shelton ran unopposed in the race for Register of Deeds.

Gary Long won the position of Road Superintendent, running unopposed.

Jo Williams won a School Board position in District 1, Theresa Portwood for District 2, Christopher Gillenwaters for District 6, and Don A. Bell for District 7.

The State Primary and County General Elections wrapped up last week.

In the State Primary Gubernatorial race, the Democratic Nominee is Karl Dean and the Republican Nominee is Bill Lee.

The race for U.S. Senate saw Republican Marsha Blackburn and Democrat Phil Bredesen receive the nominations.

The winners of the race for a seat in the United State House of Representatives in the Third Congressional District are Republican Chuck Fleischmann and Democrat Danielle Mitchell.

Randy McNally, Republican, and Stuart Starr, Democrat, ran unopposed in the race for the Fifth Senatorial District.

Nominees for Tennessee House of Representatives, 33 District, are Republican John D. Ragan and Democrat Richard Dawson.

GOP nominee for Tennessee House of Representatives, 36 District, is Dennis H. Powers while the Democratic Nominee is Cassandra Mitchell.