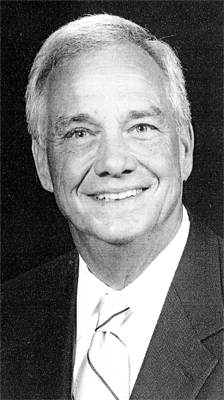 John Jordan, founder and president of The Community Bank of East Tennessee, retired on July 31 after 46 years in banking.

During this time, he led banks in small towns and large cities. He also developed his desire to help educate bankers which led to his new career as Executive Director of the Graduate School of Banking at LSU.

His career in banking led him to each of the grand divisions of Tennessee and Atlanta.

After graduating from the University of Tennessee in 1972 in industrial engineering, John moved to Atlanta and joined the management training program at the Citizens and Southern National Bank. In 1974, he joined The Citizens National Bank of Athens, Tennessee. This experience gave him a great appreciation for community banking.

He left Athens to join United Citizens Bank of Cheatham County in Ashland City, Tennessee.

The board of directors of this bank reached out to him after their president had been removed by the banking regulators. John and his wife, Nancy, turned this bank around and put together a group of investors to buy the bank.

After operating the bank successfully for several years, they sold the bank to Commerce Union Bank in Nashville. This bank was then bought by Sovran Bank in Virginia.

Sovran Bank wanted a strong presence across Tennessee, but had no offices in Knoxville. Because John had been a successful banker in Knoxville and knew the market, Sovran asked him to open banking offices for them there.

He successfully opened two offices including the iconic Sovran Center on Main Avenue. This bank was subsequently acquired by Bank of America and the building on Main Avenue now bears that name.

In 1997, John and Nancy moved to Clinton to start a local bank for Clinton and Anderson County.

They found organizing directors and sold $4.4 million of stock in the bank. The bank opened in March, 1989. This bank was quite successful growing to over $90 million in assets.

In 2012, a group of investors from Wilson County purchased the bank in order to open offices in Mt. Juliet, Lebanon and Smyrna. This sale was quite advantageous for Clinton. The shareholders received over $10 million and, because this was not an acquisition by another bank, no jobs were lost in Clinton.

In fact, because Clinton serves as the back office for the bank, jobs have been added.

Jordan has been very active in banker education since 1978. He began teaching bankers at the Tennessee School of Banking at Vanderbilt by running a bank simulation model.

In 1983, the Graduate School of Banking asked him to join its faculty to teach an Asset/Liability Management Class. He continued to teach there as a case leader, course coordinator, lecturer and bank simulation administrator until 2018.

In May, 2018, the Executive Committee of the Graduate School of Banking hired John to become its Executive Director.

The Graduate School of Banking at LSU was started in 1950. It is a three year program of education for bankers.

This school is sponsored by 15 state bankers associations in cooperation with the Department of Continuing Education at LSU.

The students spend two weeks each year in residence and complete bank study problems while out of session. More than 16,000 bankers have graduated from this program.