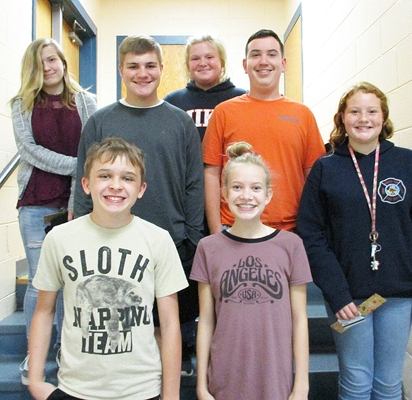 Each month, CMS teachers choose high-achieving Hawks for Student Spotlight. Celebrating the hard work of our students is one of our top priorities. Students selected for these distinctions recently received recognition as part of our first ever Hawk Celebration. Prizes were drawn, and good times were had by all.

In addition to the Celebration, these Hawks also get their picture on the Student Spotlight board in the main lobby. Teachers selected students for exemplary academic performance, model behavior, hard work in Related Arts classes, as well as for leadership qualities local businesses have worked with us to express to all Hawks.

We owe endless gratitude to Delta Apparel, Eagle Bend Manufacturing, Fox Toyota, and Powell Brothers for partnering with us to provide gifts for our Future Leaders and prize drawings this school year.

Here our the September Student Spotlight recipients:

Future Leader - Positive Attitude

8th Grade - Addison Del Carmen

7th Grade - Dylan Boyd

6th Grade - Faith Striplin

Academic Student of the Month

8th Grade - Dawson Woodard and Autumn Acree

7th Grade - Sam Duggins and Jorja Blevens

6th Grade - Brooks Dahl and Sophia Tipton

Good Behavior Student of the Month

8th Grade - Jackson Brewer and Llyssa Vowell

7th Grade - Eli Kirkpatrick and Darbi Brummett

6th Grade - Jacob Burinda and Addie Haney

Fine Arts Student of the Month

Charlotte Hancock - Chorus

CTE Student of the Month

Anastasia Fulton

Student-Athlete of the Month

Riley Webb – Football

Cheyenne Fox - Volleyball

We look forward to sharing more great accomplishments from our Hawks as the school year goes on.