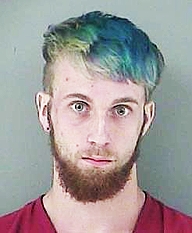 Anderson County Sheriff's deputies were dispatched around 3:30 a.m. Monday, Sept. 24, to the scene of a reported shooting at 161 Leach Lane in Clinton.

Upon their arrival, deputies found the victim with multiple gunshot wounds (leg and abdomen) which appeared to be non-life threatening.

The victim was alert and transported to the University of Tennessee Medical Center and underwent surgery for those injuries.

The suspect in the shooting, Alexander William Carter, was detained by the Clinton Police Department at the Gate Manor Apartments in the north Clinton area and transported to the Anderson County Detention Facility.

Sheriff's department investigators interviewed Carter most of Monday morning at the detention facility.

Sheriff Russell Barker praised the teamwork between the two agencies which led to the quick apprehension of the suspect.

"The communication between the deputies at the scene and the officers at the Clinton Police Department was flawless this morning," Barker stated.

Clinton Police Chief, Vaughn Becker, hopes this shows criminals that all agencies in Anderson County are united.

"This morning is a great example of two agencies coming together as one to locate and get this suspect off our streets. Our united front will continue to yield quick, successful results like this morning," Becker concluded.

The victim's name has not been released and the investigation is ongoing.