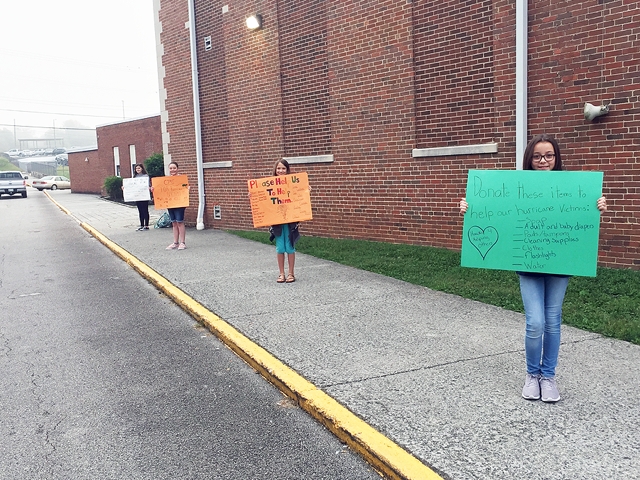 Back again! With more stories from the halls of YOUR hometown middle school.

You will find short pieces below related to areas of learning and fun in our building from Classes and Sports to Hawk Life, Student Spotlight, and our new focus on College & Career awareness.

Showcasing a wide variety of the positive happenings at CMS is Hawk Talk's first priority.



Advisory has a Minute to Win It!

Catherine Meredith, Kira Murphy, Tara Pickel, and Emily Metcalf

Clinton Middle's Advisory classes are diving into some friendly competition this school year!

Advisory classes have worked to create the best Minute-To-Win-It game, which will be played during this year's first annual Nine Weeks Celebration.

Candus Claiborne, head of Advisory, informed us on the purpose: "One: it's fun, and people enjoy games. We were looking for an activity to pull the advisory together. It's a friendly competition. Minute-To-Win-It games are kind of silly and fun. We will perform them at the schoolwide end of the Nine Weeks Celebration."

Advisory was intentionally designed to bring our Clinton Middle community together.

The main goal of Advisory is to unite all students in an exciting competition.

Minute-To-Win-It games are a fun way to pull our Advisory classes together, make new friends, and build CMS stronger as a community.

Hawks Helping Others send help to the east

Jacen Pride, Jackson Brewer, and Tanyan Pollard

At Clinton Middle, we love to help our community.

One way we do this is through the Explore to Soar Club called Hawks Helping Others.

Club sponsors Ms. Nicole Patalano and Ms. Lisa Clark, two 7th grade teachers, lead a large group of students in various community service projects.

This week the club has put its focus on the victims of Hurricane Florence, which hit the coast of North and South Carolina last week.

The goal is to gather as many supplies as possible to send and help people survive.

Ms. Patalano told Hawk Talk staff that," Hawks Helping Others are collecting items for Hurricane Florence... Then, we will drive them to North Carolina."

The club will collect items from drinks, food, diapers, clothing, and flashlights to random daily items everyone needs.



8th graders engineer new cars

Hunter Evans and Noah Weeks

Of the many projects going around here at CMCCA, so many it's hard to keep count, there is one we would love to show everyone. In the 8th grade hallway, something very interesting is happening in Mr.Lewis's class.

All of his students are making self propelled cars using CO2.

"This project is going to be very interesting, I'm excited to see all of these cars in action," says Dawson Woodard, an 8th grader in Mr.Lewis's class.

We also spoke to Mr. Jonathan Lewis, the Related Arts teacher running this project.

He told us, "This project takes a huge thought process and needs perfect measurements."

Here are the steps to making one: Sketch out your idea, draw your concept, engineer drawing, build a 3D model online, complete a virtual simulation, cut design out of wood, sand, paint, and race.

These cars are lightning fast.



Volleyball and Football wrap up regular season

Preston Duerr, Camden Leon, and Dawson Woodard

Clinton Middle Football recently finished its regular season.

Though the last game against CAK resulted in a tough loss, the Hawks played hard all season.

Reflecting on the season, 8th grader Dawson Woodard told us that, "We just got out played, they were more physical.

"Our defense could not wrap up. we missed open field tackles that were critical to them scoring"

CAK scored first on the opening kickoff but the Hawks returner, Gavin Smith, did likewise immediately after that.

Both offenses were driving, CAK's defensive play ultimately stole the show. Our offense could not get anything going after the first drive.

While it was a disappointing end to the regular season, the Hawks still have opportunities in the postseason with games starting this week.

The Lady Hawks Volleyball team had a heartbreaking loss to Lake City, but the JV was able to win their game against Lake City's JV team.

Eighth grader varsity volleyballer Brooklyn Blisard told us it came down to this: "We lost because of our communication as a team.'

Lady Hawks Volleyball entered district tournament play on Monday.

Best of luck to both teams, and congratulations on all the hard work of our student-athletes this year.