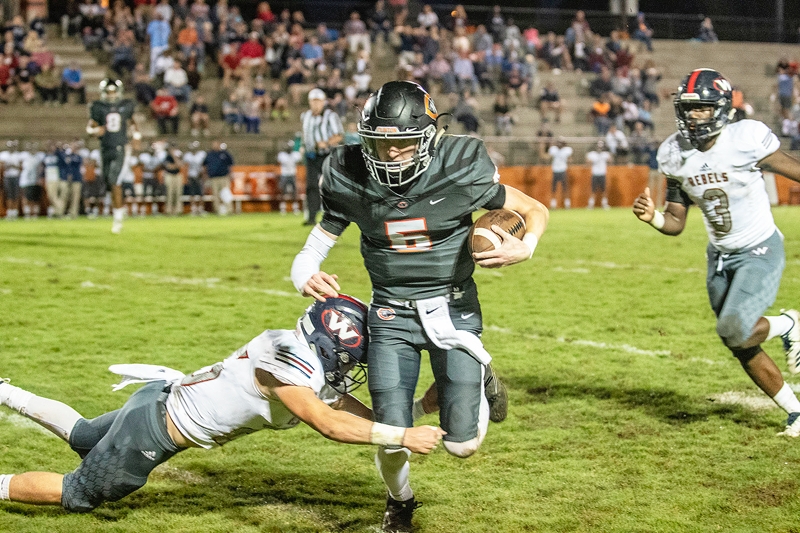 The Clinton High School Dragons (1-5, 0-2) will be happy to move on from Friday's heartbreaking loss to West.

However, a Region 3 showdown at Fulton High School (5-1, 2-0) will be anything but an easy task. Fulton is ranked number one in 5A and 14 in the state via MaxPreps.

The Falcons come into this Friday's game on a win—shutting out Carter 43-0 last week, and will be heavy favored over the Dragons.

The 5A powerhouse's lone loss comes against 6A powerhouse Maryville High School. The only time the Falcons have given up more than 20 points was in that matchup with the Rebels.

Fulton's offense has the ability to score at any time, from anywhere on the field. Fulton averages 34.3 points a game this season.

In recent weeks, the Falcons have had little trouble putting points on the board. Three weeks ago, Fulton put 70 on the board against Karns.

"That won't be us, I can assure you" said Clinton Head Coach Randy McKamey. If the Dragons want to have any chance of upsetting Fulton, it will start on the defensive side of the football.

The Clinton defense played well against West, but will still need to play better, and force turnovers this Friday. Fulton's offense is extremely dynamic, and filled with elite athletes.

The Falcons average 329.8 yards a game — which is evenly distributed between running and passing — 169.3 yards per game on the ground vs. 160.5 per game through the air.

The Falcons' running back Deshawn Page averages 59.3 yards per game, complimented by quarterback Xavier Malone who averages 158.5 passing yards per game.

Containing Malone will be crucial for the Clinton defense, as he alone is averaging 47.5 percent of the teams total yards. Fulton's go-to playmaker on offense is Robquan Thomas, who is averaging 11 points a game.

Not giving up big plays, getting off the field on third downs, and putting pressure on the Fulton backfield will be their keys to success. One or two defenders do not need to lead Clinton if they want to keep Fulton out of the endzone. Instead, the Clinton defense must come together and play a complete game—as one unit.

Putting points on the board will be a huge test for the Clinton offense.

Clinton is led by senior running back Josh Breeden, alongside senior athlete Isiah Washington. Breeden has 425 yards on 55 carries, with five touchdowns this season.

Washington follows with 309 yards on 66 carries, and two touchdowns.

The duo need to have their best game of the season if the Dragons want to find the win column.

However, Fulton's athletic ability, Clinton's flexbone offense will be matched.

The Falcons get sideline to sideline better than any defense the Dragons have seen this year.

If the Clinton offense is going to have any sort of success, the offensive line has to play above par. If Fulton is able to blow up plays at the line of scrimmage, it will be a long night for the Dragons offensively.

"We need to have ball control, and eat clock. We will hang toe to toe with Fulton, and have success," said McKamey.

Outside of Clinton's city limits, finding a person who expects the Dragons to have success and beat Fulton would be extremely rare.

Yet, those people are not strapping on pads and a Clinton uniform this Friday. A win would be one of the biggest high school football upsets, if not the biggest upset in the state this week.

A win would also put Clinton back in the playoff picture.

For an upset to happen, everybody in the Clinton locker room needs to have their best game of the year this Friday — from the coaching staff down to the freshman.

Gentleman, this is your chance to shock the state.