Clinton's Trevor Linderman wins 285-lb. class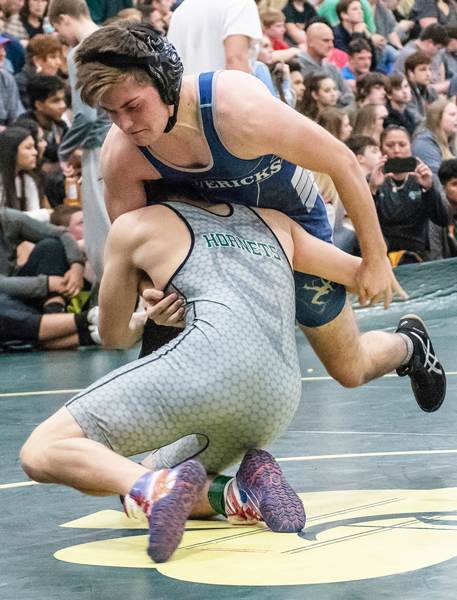 The 2018-2019 wrestling season hit the mat full force this past weekend. The 2018 Catholic Invitational featured 25 different high schools from around the state, and Coahulla Creek High School (Ga).

Both Clinton High School and Anderson County High School wrestling programs competed in the tournament at Knoxville Catholic High School. In all, 277 wrestlers represented their respective schools within their one of the 14 weight classes.

In a massive tournament format such as this, each wrestler looks to not only win their weight class through a win-and-advance process, but also looks to collect team points for their respective school. In a double-elimination format such as this, there is a Championship bracket as well as a Consolation bracket — which is entered after loss number one.

Each athlete is guaranteed a minimum of only two matches, thus increasing the desire to advance.

The Clinton Dragons consisted of six wrestlers. The biggest one — Trevor Linderman, who competed in the heaviest 285-lb. class.

Linderman received a bye in round one, and advanced to round two. Here, Linderman faced Halls' Zayne Glenn (5-2), and defeated him easily by fall.

The victory moved Linderman into the quarterfinals of the heavyweights, where he faced off against Bearden's Parker Gilstrap (4-3). Again, Linderman earned a quick victory by fall.

He moved on to the semifinals against Carter's Elijah Wright (4-2). Linderman defeated him 25 seconds into the fight by fall. Linderman easily reached the 285-lb. championship match against Hardin Valley Academy's Dawson Hardesty (4-2).

Linderman (4-0) put 15 points on Hardesty and won the 285-lb. class by a 15-2 major decision.

Linderman's first place finish earns the Dragons 31 team points. That is how you start a season.

Clinton would finish 17th overall, with 48 total team points.

Both schools will be back in action on Thursday. Anderson County hosts Christian Academy of Knoxville and Farragut High School. The Dragons will travel to face Alcoa.

The Anderson County squad featured a total of eight wrestlers. Tyler Muncey was the Mavs' most successful wrestler of the tournament. Muncey competed in the 152-lb. class, and actually received a bye in the Championship Bracket first round.

In the second round match, Muncey won by fall defeating Sevier County's Hunter Fromm.

However, his first loss would come in the quarterfinals to Heritage's William Norris.

Muncey dropped into the consolation bracket, but was able to win two straight matches.

His second defeat would come in the consolation semifinals.

Yet, because of his advancement, Muncey earned a spot in the 152-lb. fifth place match.

In the fifth place match, Muncey would rematch with Norris (5-2) and be defeated by fall.

The defeat marked the end of Muncey's (3-3) invitational run. Nevertheless, his sixth-place finish would earn the Mavs a team-high 15 team points. Anderson County would place 22nd, with a total of 25 points.