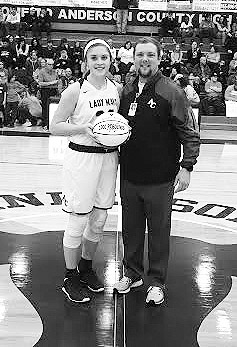 The Anderson County Mavericks concluded a successful week in District 3-AAA boys basketball play Friday as they notched a 60-48 win over visiting Campbell County.

The win lifted the Mavs to a 3-1 district record as they head into two road games this week, including a contest which was scheduled Tuesday at Powell before traveling to Oak Ridge Friday.

The Lady Mavericks, meanwhile, suffered a 65-38 loss at home against highly-rated Campbell County as they also face challenging opponents this week at Powell and Oak Ridge.

Harrison Ogburn's 14 points, Grant Hayes' 13 and Stanton Martin's 10 provided the key firepower the Mavericks needed to control the Cougars even though the latter began to trim the point differential during the final period.

"We played better in the first half than we did in the second half," said AC Coach Derek Wallace as he reviewed a 14-6 first-period lead and 34-21 advantage at halftime.

Both teams had trouble scoring during the third period as the Mavs outscored the Cougars 8-7 to lead 42-28. The Cougars never got closer than 10 down the stretch as the Mavs made key buckets to continue their momentum.

"We had some sloppy play in the second half, which we didn't have early," Wallace added. "The game dragged in the second half and that was hard for us in trying to keep our momentum going. I give Campbell County credit for not giving up. We were fortunate when we got the key baskets we needed."

Wallace said his team is making its presence felt during the early part of the district race.

"We have three straight district wins over Clinton, Halls and Campbell County after losing our district opener to Central," Wallace said. "While we would like to be 4-0 at this point, a 3-1 record puts us in a good place at this point.

The Lady Mavs played the Lady Cougars close early as Campbell County was up 13-12 after one period. However, Campbell County began to pull away from that point as the Lady Cougars was up 31-20 by halftime and 53-31 after three periods.

Tea Hickson's 13 points, including two treys, topped the Lady Mavs. Maci Houser also scored two treys while Callie Bowling hit once from beyond the arc.

Lady Mav Brooklin McCoy was honored after the game for reaching 1,500 points for her AC career to go along with the 1,000th rebound she achieved the week before.