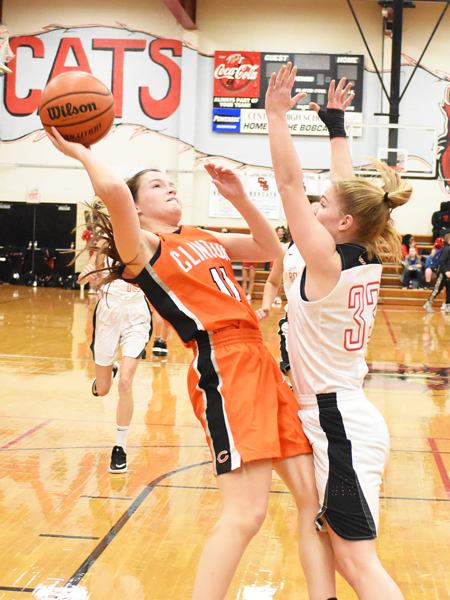 The Clinton Lady Dragons (6-4, 2-2) came into the Knoxville Central contest as the better team.

However, the Lady Bobcats (2-7, 1-4) did not plan on going down without a fight. The Lady Dragons used a 23-point fourth quarter to propel them to a 54-43 District win.

Both Clinton teams proved they are capable of playing at an elite level on the floor of a quality district opponent.

In the girls matchup, in the first quarter, Central moved the ball around better than Clinton did. The Lady Bobcats had 5 different scorers on 10 first quarter points.

The Lady Dragons trailed 10-5 at the end of the first quarter, but their offense began to find a rhythm in the second. Senior point guard Danyel Joy began to penetrate into the Lady Bobcats defense. Joy would put up six of Clinton's ten second quarter points. It was a low-scoring half of play, but at the intermission, Clinton trailed Central 18-15.

In the third quarter, the Lady Dragons began more be more patient in their frontcourt. As Clinton's ball movement and off-the-ball movement improved, so did their shot selection and efficiency. However, on the other end of the floor, Central took advantage of their size by pounding the ball inside. Both teams would put up 16 points in the third quarter, and the Lady Bobcats led 34-31 heading into the fourth.

Fortunately, for the Lady Dragons, they would heat up as Central cooled down. The Lady Bobcats had absolutely no answer for Clinton's offensive output. Kinley Martin would hit three consecutive from downtown, which gave Clinton a six point lead. Joy would continue to attack the paint off the dribble, draw contact, and get to the line. The Lady Dragons shot 10-of-13 from the line in the fourth quarter, while the Lady Bobcats went zero-of-five. A 23-point fourth quarter was more than enough to secure the 11-point win. The Lady Dragons were led in scoring by Kinley Martin, who finished with 20 points. Danyel Joy followed by adding 17 points of her own.