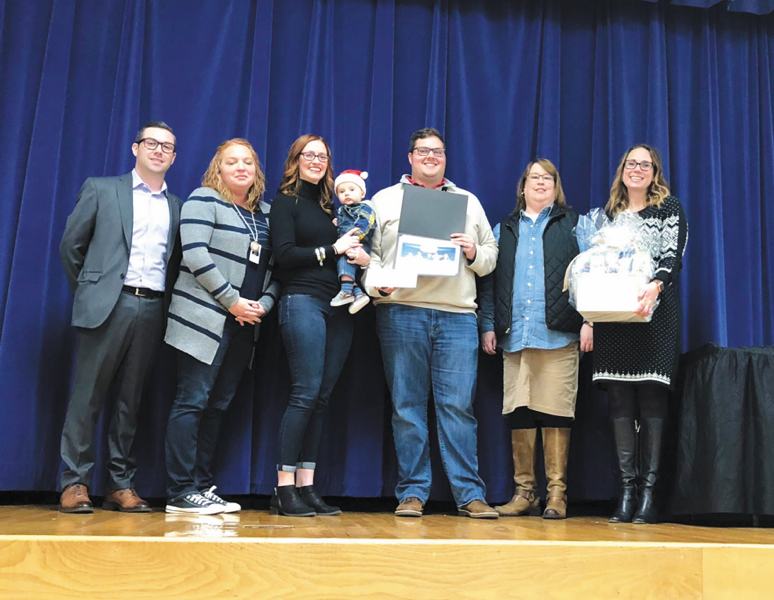 It all started with an act of kindness. An assembly was called in the auditorium on Friday, December 7th, during 5th period. A special group of 8th Grade students surprised their teachers by presenting them with a letter to recognize them for being Caught Doing Something Good, which is one of the ways teachers recognize students during our Hawk Celebrations.

This group of students had decided to spread the kindness by sharing some positivity with their teachers.

But after the warmth had spread through the room, another surprise awaited. During the assembly, representatives from Dollar General and Suave Beauty took the stage to give one more bit of recognition.

Mr. Kevin Powers, an 8th grade ELA teacher, was recognized as a Grand Prize winner of a grant from The Dollar General Literacy Foundation and Suave for inspiring students through books and reading.

Mr. Powers was awarded $2500 for his classroom and $10,000 for literacy efforts at Clinton Middle. The people at Suave and Dollar General were impressed with Mr. Powers' coffee shop-style reading area in his classroom, where he encourages student to find their "comfy spot" for independent reading.

"Our reading initiative is a true vision of this school," said Powers. "We have a lot of kids who will admit to never reading a book until they came into this building and have never finished a book so I try to impress on my kids how good it feels to finish a book and how inspiring it is to want to read more when you finish that first book when you've accomplished something and you've reached that goal."

This money will be an absolute good for strengthening the classroom libraries of all of our ELA staff and in funding incentives for students achieving with our yearly independent reading challenge.

Pictured to the left are Mr. Powers, winner of literacy grant, with his wife and son, Kit; Principal RaeAnn Owens; and representatives from Dollar General and Suave.