CES gyms gets 'The E.T. Stamey Court' in writing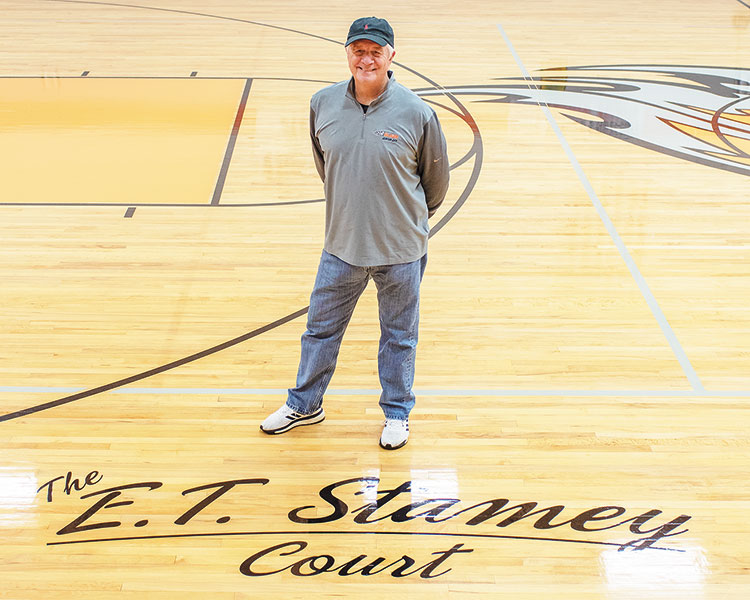 Over the holiday break, Finchum Sports Floors returned to Clinton Elementary School to make "The E.T. Stamey Court" official.

On the left-hand side of the court, his name is now a part of the court, shining under the bright lights in black, glossy paint.

In October, the Clinton City School Board voted unanimously to name the Clinton Elementary School basketball court in honor of E. T. Stamey, Coordinator of the Blaze Well-Rounded Activities.

Stamey has been a foundational component of this program, raising approximately $65,000 to be used on startup equipment, gym renovations, and coach's salaries.

Stamey commented, "None of this would have happened without community support. It was the right time and the right place for the birth of the Blaze. The overwhelming support from the citizens shows the level of excitement the community has towards offering these programs to our younger generation.

"Watching the students grow and develop through these programs is an amazing experience, and I am honored and humbled to a part of it," he continued.

Currently Blaze well-rounded activities consist of Project H20, Reader's Society, Basketball, Cross Country, Swimming, Bowling, Dancing, Orff Ensemble, and Band.

Plans are underway to begin a formal robotics program in the future.

The court will be on full view when the Blaze take on Clinton City Schools' teachers Jan. 12. Game time is 6 p.m.