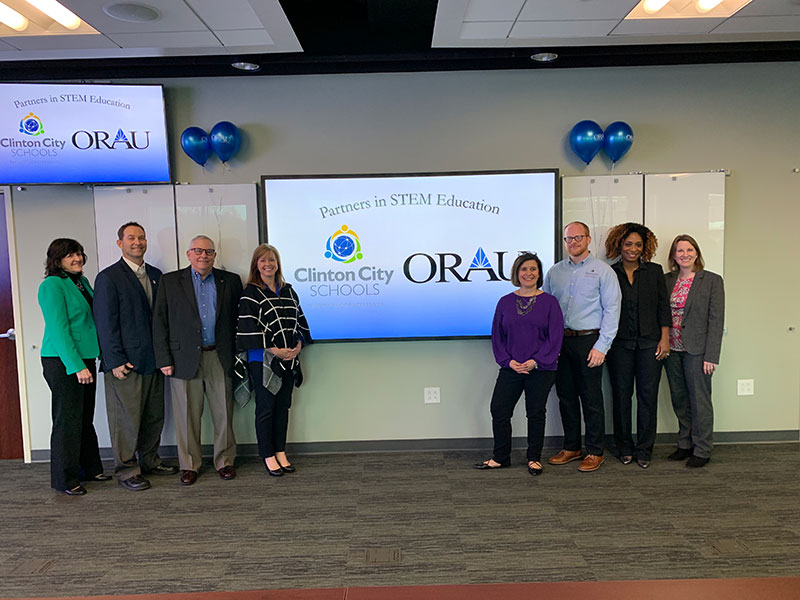 While students were on winter break, City of Clinton Schools leaders were hard at work forging a path to expand innovation in STEM education in their district and beyond.

Through a recently signed non-binding memorandum of understanding, ORAU and the Clinton City Schools will partner to work together to enhance STEM education programming in the district.

The agreement was signed Friday, Jan. 4.

Leaders of both organizations gathered on ORAU's Oak Ridge campus for the event.

"We certainly value our ongoing relationship with the Clinton City School District," Craig Layman, ORAU associate director of workforce development, said.

"This agreement formalizes our working relationship for grants and other opportunities we are working on together. The more ways and the earlier we can get children interested and excited about STEM topics, the better off we are."

ORAU has been leading the way in STEM education for more than 70 years, and the Clinton City School District has been among Tennessee's leading school systems for more than 124 years.

In addition to fostering a collaborative partnership for the creation of new programs, this unification will strengthen the school district's competiveness for federal and private STEM grant opportunities that will help fund endeavors that impact more students.

"Providing a strong STEM education is vitally important in helping our students prepare for their futures, both in terms of possible careers and as fully functioning citizens of the world we live in today," Kelly D. Johnson, director of Clinton City Schools, said.

"Working with ORAU will help us grow an even stronger STEM education program that benefits our students."

Recognizing that the future is dependent on today's students, the mission of Clinton City Schools is to educate our students to achieve their full potential by providing a safe and challenging academic environment where standards are high and learning is a priority.

To learn more, visit Clinton City Schools at www.clintonschools.org.

Learn more about ORAU at www.orau.org.