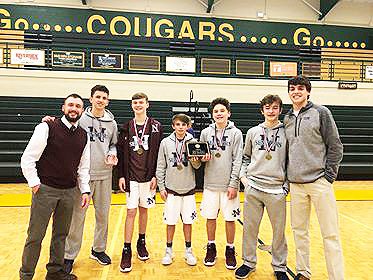 For the third consecutive season, the Norris Middle School Senators (15-6) are Section 1—Area 2 Class AA Champions.

Led by rookie head coach Matthew Box, a Norwood Middle School teacher, and Anderson County alum, assistant coach Noah Green, the Senators have added to their collection of hardware.

In the district tournament, Norris Middle defeated Robertsville and Jefferson Middle Schools to advance to the championship game.

In the title bout against Jacksboro Middle, the Senators would capture their triple crown with a 36-33 victory.

Bryson Vowell was named the All-Tournament Team MVP. Additionally,

Ethan Charles, Cole Phillips, Tate Russell, and Braden Miller were all named to the All-Tournament Team.

The Norris Senators now advance to the TMSAA Sectionals, and a first-round bye.

The Senators await the winner of the Mosheim/Dayton contest.

Tip-off for Norris' second-round bout is scheduled for 6:15, Jan. 30, at Sevierville Middle School.