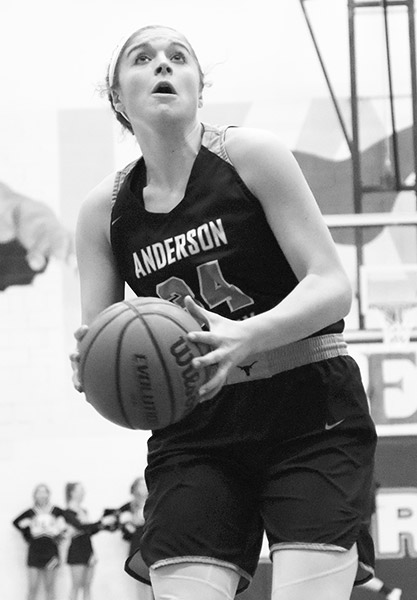 The Anderson County Lady Mavericks struggled to find wins throughout the month of January. However, since January 22nd, the Lady Mavs have won four out of their last six games—two of which were much needed district wins. All four of those wins have come at crucial time late in the season, and because of those wins Anderson County has made the possibility of finishing within the district's top four reality. After a win over Clinton and a loss to Scott the first week of February, the Lady Mavs picked up two straight wins last week, 74-43 over Oliver Springs and 64-24 over Oakdale. While both of those games are not district games, they could hold the key to the door of District-3AAA's top four. The Lady Mavs were excellent offensively last week. Plus, Anderson County has caught fire from downtown.

Last Tuesday, the Lady Mavs put up 74 points on Oliver Springs. Before that game, the Lady Mavs had only reached the 70-point mark on two occasions: The first game of the season and January 22 in a win over Karns. If there was a perfect time for the offense to play at their best, that time is right now. Last week, the Anderson County was unconscious from three-point range, and offensively, played better than they have in weeks prior.

In the win over Oliver Springs, last Monday, the Lady Mavs hit ten shots from downtown. Senior Brooklin McCoy led Anderson County with a game-high 28 points and led the team with four makes from beyond the arc. Senior Maci Houser would follow, putting up 14 points. Also, Callie Bowling, Jayce Braden, and Juliann Smith would all finish the game with eight points each. After leading 30-17 at halftime, the Lady Mavs would put up 22 points in both the third and fourth quarters, which lead to a big win.

In the win over Oakdale, last Friday, Anderson County picked up right where they left off against Oliver Springs. The Lady Mavs opened the contest with 24 points in the first quarter and would lead 31-9 at halftime. McCoy (16), Houser (10), and Smith (13) would all reach double figures. Also, Anderson County would hit a ridiculous 15 triples in the win. If a team can make 10-to-15 three pointers a game consistently, that team is going to win a lot of games. If the Lady Mavs stay hot from range, this week's Distict-3AAA Tournament will be very interesting.

A month ago, Anderson County's chances of reaching the fourth spot were very slim.

Anderson County have been chasing Clinton, who sits fourth in the District-3AAA standings, for weeks now. Luckily, all the things that needed to happen—happened—including last week's out-of-district wins. Those wins give Anderson County a better overall record than Clinton, which could be used as a tiebreaker.

The Lady Mavs (15-13, 5-8) sit one game out of the four spot, still behind Clinton (14-12, 6-7). However, both Anderson County and Clinton played on Monday and they determined the seeding for this week's District-3AAA Tournament.

The results of both of Monday's contests determined the four-through-seven seeds, and there could be lots of seeding changes due to those results.

The girls' District-3AAA Tournament will be held this week (Feb 12-19) at Karns High School.