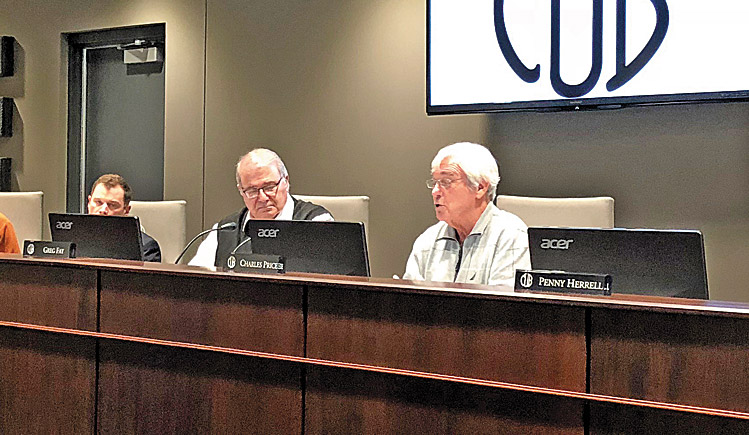 The Clinton Utilities Board met last Thursday to discuss potential changes to how it deals with developers.

The changes are in response to a meeting that took place in December, where developers and community members said that some current CUB policies hurt the county's ability to grow. For example, for a residential customer building their own home, the power pole fee is waived. For a developer, it costs $2,500, according to multiple developers at the meeting.

Developer and entrepreneur Joe Hollingsworth repeated on Thursday night that he felt developers were being punished with fees. He also said that they utility companies should invest in infrastructure in high-growth areas, which would eliminate some of these fees developers have to pay to get power out to newly developed areas.

Clinton Utilities Board member Greg Fay told Hollingsworth that, when it came to the pole fee, developers aren't being charged more than individuals building their own homes.

"The $2,500 allowance is also available to the developer," he said. "If you're coming from the primary line to your home, we'll give you the same benefit. So it's not like we're discriminating against the guy building. It has nothing to do with the development, it has everything to do with the proximity from the home to the primary. So if you build your subdivision, and it costs $1,800 to get from the primary to the home, you don't have to pay any of it… you'll get the same allowance that everybody else gets."

Hollingsworth disagreed.

"There is by everybody here that could develop, a clear feeling that if you're a single homeowner, you get all sorts of breaks, and if you're an industry, you get a $2 million substation," Hollingsworth said. "But if you're anywhere in between, it's impossible to work with CUB."

Board member Zach Farrar said that it does seem that the board treats industry and individuals differently than developers.

"It does seem that we engage in an amount of speculation, or subsidizing industry if you will," Farrar said. "Why aren't we taking a similar approach to these developers? If we use certain economic indicators, then surely we can reach a reasonable arrangement."

He cited the representation in the room — people from the Chamber of Commerce, developers, surveyors and real estate agents, all saying the same thing — and said that that tells him there is a problem.

"Perhaps far too often this board has been too quick to get to 'no,'" he said. "I think this board has been run efficiently and effectively and that cannot be denied. But what I want to see is take something that is great and make it greater."

He said that the traffic flowing out of the county is something he sees every day.

"That's telling me that people are working in this community and living somewhere else," he said.

Growth should be done mindfully, he said, so that Clinton doesn't turn into West Knoxville or Hardin Valley, but that the points made by developers deserve an answer.

"I think on the board here there is a concession of grievances that something needs to change," said board member Charles Price, "because the results speak for themselves."

He asked for specific items that need to be changed so they can vote on it. Fay told The Courier News on Monday that he's been directed by the board to "flesh out some of these conceptual leads" in order to better represent the good things that we already do.

"I think we made some steps," he said concerning last week's meeting. "Some other utility companies have found different ways to incentivize developers, and we're going to look at all of that, whether rebates are appropriate."

He hopes to have specific things to vote on next month.