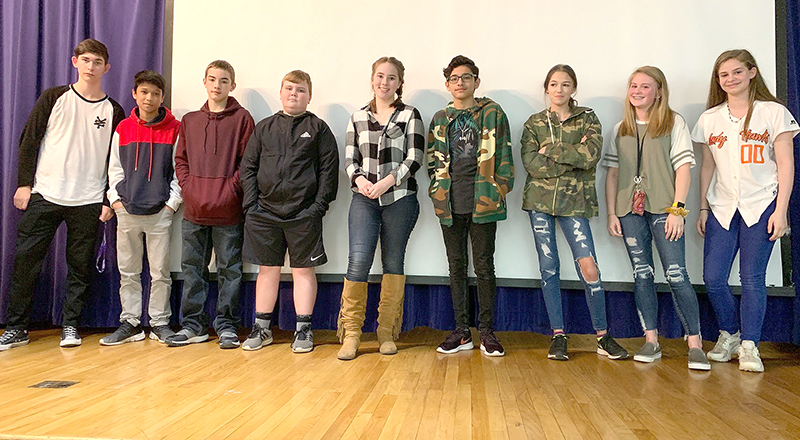 Back again, with more stories from the halls of your hometown middle school.

You will find short pieces below related to areas of learning and fun in our building from classes and sports to Hawk Life, Student Spotlight, and our new focus on College & Career awareness.

Showcasing a wide variety of the positive happenings at Clinton Middle School: College and Career Academy (CMCCA) is Hawk Talk's first priority.



Clinton Middle faculty catches students "Doing Good"

by Hawk Talk Staff



Every midterm (that's every 4 ½ weeks), Clinton Middle grade level staff gathers all of their students together to throw around some positive praise.

Last week, students received recognition for selection to Beta Club, Perfect Attendance, Honor Roll, Explore 2 Soar Attendance, and the last but certainly not least…Students "Caught Doing Good.

Every month, grade level teachers get together to select students, one student per teacher, who exhibits some inspirational quality of "good"ness. Teachers read aloud handwritten notes that are eventually mailed out to parents and guardians.

"This is in an effort to promote good will," 8th grade teacher, Kevin Powers, told us, "and it strengthens the bonds and relationships between students and staff."

Our students truly look forward to this at every midterm celebration. "It feels good to read nice things your teachers say about you," said 8th grader Morgan Campbell, whose family received one of these notes earlier in the year, "because you never really think a teacher would feel that way about a student."

Relationships are at the foundation of a strong education, and this is only one way teachers at Clinton Middle reinforce this every month.



Variety Show to benefit CMS Choir Program

by Catherine Meredith, Emilee Metcalf, Kira Murphy, and Tara Pickel



Clinton Middle School Choir is putting their best singers forward! Join CMS on March 7th at 7pm. Admission is $3, so join us for an amazing variety of singing, instruments, and more!

Head of the show and choir teacher, Elizabeth Myers, says, "The show is to help us raise money for our choir festival field trip. I estimate around 30 students will be involved in the show."

This is a great opportunity to come about and support our Choir program and see some amazing performances from CMS's own!



Chocolate for the teachers

by Jackson Brewer, Jacen Pride, Tanyan Pollard, and Ethan Slaven



This week Clinton Middle School introduced a new fundraiser. We are selling World's Finest Chocolate Boxes until March 13.

Mrs. Pridemore, the projects director, said, "We will use this money to buy new furniture for the teachers. It is really just to provide for the things that teachers need."

She states that we will turn this school from a regular middle school, to a true academy.

Until next week...