Scrimmage shows potential, playmakers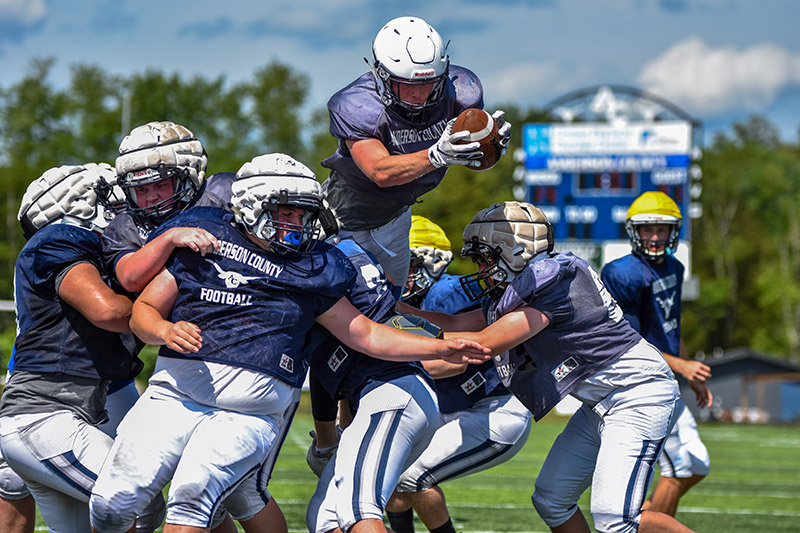 The Anderson County Football Mavericks returned to the turf last Friday, for an in-school Spring game.

The Mavs come into 2019 as back-to-back Region-2 champions, and have a combined record of 24-2 over the past two years.

However, the Mavs are graduating 20-plus seniors this weekend. Thus, there are a lot of question marks revolving around the 2019 team.

With that being said, Anderson County still has plenty of bodies.

The upcoming freshman are not able to participate in offical team activities yet, and the graduating seniors were not involved in the Blue versus Grey game either.

Still, Mavs played three quarters of football last Friday, and had plenty of second string guys to substitute in and out.

What the Mavs do lack right now, is experience. A coach can give a player 100 reps in practice, yet that still does not simulate a Fall Friday night under the lights.

However, as for the well-known style of Anderson County football, that is not going to change.

Lining up under, mostly five yards behind center is Stone Hatmaker, a rising junior.

Hatmaker is an athlete, a duel-sport athlete to be exact. You will find him on the hardwood during the winter as well.

Hatmaker has limited varsity experience, so he'll have to improve on his speed of play, how fast he goes through his mechanics, etc.

With that being said, Hatmaker reads the field really well, and only had one ill-advised throw the entire scrimmage, which was short-armed and picked.

In other words, that is fixable. As long as a quarterback is not forcing throws, and is going through his reads and checkdowns and making good decisions, the "arm-talent" will come.

Hatmaker's "unofficial offical" stats for the Blue-Grey Spring game: 24-of-33 for 320 yards, one touchdown, and one interception.

There was three new faces that are standout playmakers, and really stood out from the crowd: Cam Thomas, Anthony White, and Josh Miller.

Cam Thomas can be compared Percy Harvin. A smaller player, but is crazy quick, shifty, and very hard to bring down.

Thomas took snaps at the running back position, but was also used at all three wide receiver positions, and was Hatmaker's favorite target.

On his touchdown, Thomas caught a pass out in the flat with a defender playing at him.

Thomas absolutely broke the guy's ankles, and took it to the house. Expect to see a lot of Hatmaker to Thomas this fall.

Next, Anthony White, who is your big bruiser running back, but he can catch to.

White had a 30-yard touchdown catch on the opening drive of the game, but it was called back for holding.

White will handle carries between the tackles on dive and read plays, but as you can see on the front page, he is not afraid to go over the top either.

Lastly, Josh Miller, who is your smaller, faster tailback.

This kid will give Anderson County a nasty one-two ground game, which defenses will have to respect. Thus, it will open up the pass too.

Miller is smaller, but he runs hard, keeps his pads low, and is lightning fast.

He had one touchdown in the scrimmage as well, and you can expect more this Fall.

Anderson County will have another Blue-Grey intersquad scrimmage this Friday evening, at Anderson County High School.

However, the time has not been announced, so keep an eye on social media throughout this week.