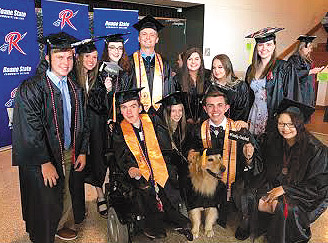 Eleven seniors who will graduate this weekend from Anderson County and Clinton high schools have already earned their associate's degree from Roane State Community College.

The seniors participated in the middle college program and received their degrees May 3 during graduation ceremonies at Roane State's Roane County Campus.

"These students have worked two years while in high school to earn their degrees," said David Lane, director of Roane State's Middle College program. "They have spent mornings taking college courses on our Roane State campus before returning to their high schools later in the day to finish their remaining high school curriculum."

Students from the two Anderson County high schools are Allyssa Evans, Matthew Fisher, Wanda Gunter, Brooke Handley, Mackenzie Hensley, Sadie Johnson, Sadie Lloyd, Zoe Lockett, Jackson Muncy, Connor Murphy and Grayson Terry. Lane said potential students for the program are identified during their sophomore year.

"The students take a pre-ACT test and the schools make recommendations for students based on those results," Lane said. The middle college class of 2019 is the fourth group graduating from the Roane State program.

"Our first class started in 2014 and graduated in 2016," Lane said. "We at Roane State are very proud of all of the students who have gone through the program and what they have accomplished."

This year's middle college graduating class has a decidedly Anderson County and Clinton flavor as the 11 from those two schools were part of a class of 39.

More information about the middle college program is available by contacting Lane at 865-898-5005, lanedr@roanestate.edu.