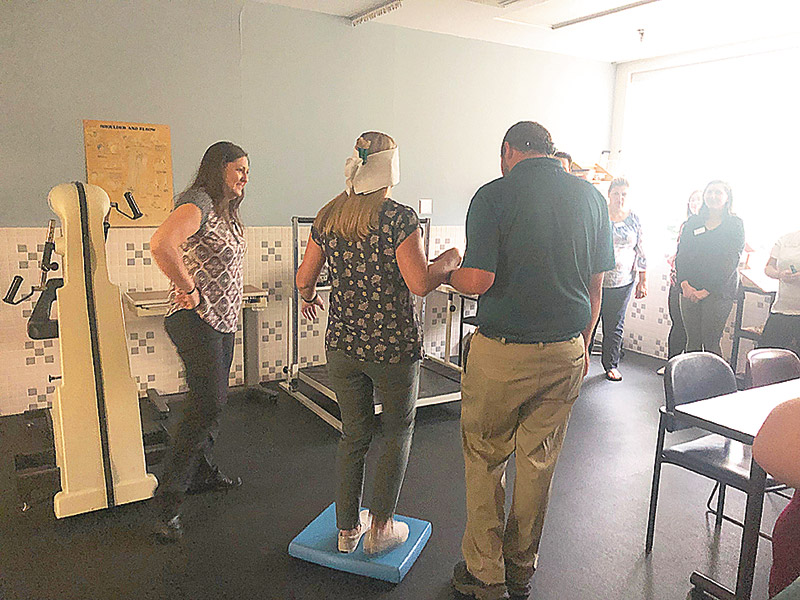 Leadership Anderson County's first official session began last Tuesday, and this month's focus was health and wellness.

The most memorable moment: lunch.

I know, that shouldn't be the most memorable moment. And it's not that the rest of the day wasn't good, it's just that lunch was so good. Catered by Methodist Medical's cafeteria — a place locals go on purpose — a buffet was served featuring some kind of delicious pork, stuffed chicken, roasted vegetables, bread and a chocolate cake.

We were told the food was going to be amazing, and it was.

OK, on to the actual day. Last month, we had a two-day orientation where we got to know more about each other. This time, we got into some of the nitty gritty of how the county works.

First up was a tour of the Methodist Physical Therapy Center. This place works with adults as well as children, and the passion and dedication shown by every employee made this place very impressive. Our class was led by Alaina Marino, rehab manager at the center, and she walked a few of us through an obstacle course, blind-folded. She also showed us what some of the pathways to healing are, including dry needling — like acupuncture but without the philosophy — and exercises.

We heard from the CEO of Ridgeview, a few high-ups at the hospital, and EMS Director Nathan Sweet, but the most moving moment came when RN Cher Stallings talked to us about how cancer affects the patient and his or her family.

She used a ball of yarn to create a web of experiences. We all stood in a circle, and she went back and forth among us, handing us each an end of the string and a lanyard. Each lanyard had a written description of a moment in a cancer patient's life.

"Biopsy."

"Chemotherapy."

"Financial services."

"Radiation appointment."

"Port."

"Hospice."

There were at least 60 different descriptions of appointments, care services and processes that Stallings walked us through. She explained how important each detail was, and told us how one of her best friends was just diagnosed with Stage 4 breast cancer. It was an emotional experience for her, as well as for us.

Here is the sum-up of the day: Healthcare in America is difficult. We have a tangled network of problems, including the cost of actual healthcare and the bureaucracy of insurance.

Hospitals and patients alike experience the pain of pharmaceutical companies raising the price on common drugs like epipens and insulin.

Billing is a convoluted process, and no one denies that it's more complicated than it should be, but the hospitals are at the mercy of what Medicare will pay out. That impacts self-pay and commercially-insured patients as well.

But, Methodist Medical seems committed to its patients, and offers patient care coordinators to navigate through all the processes and red tape. While they deal with the unintended consequences of legislation, they don't let that affect the level of care they provide.

Reporter Crystal Huskey is participating in Leadership Anderson County, and offers a firsthand view of what takes place in this column.