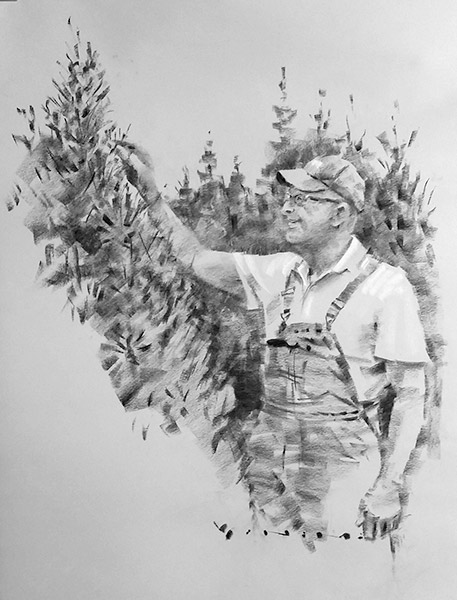 "I felt like I was giving a voice to something that couldn't speak for itself," says Leo Collins, retired Chief Botanist for the TVA.

For decades, Collins worked with the TVA on projects to ensure rare or endangered plant life stayed protected. He thought for sure that he would end up becoming a college professor, but the dedication of his team convinced him to stick with it for his entire career.

"We realized we weren't on the outside of the wall throwing rocks over," he says excitedly. "We were on the inside."

He started with TVA in the late 1970s, and even after he retired, they would call him back in on special projects as a legacy expert.

"TVA figured out that botanists were a lot cheaper than lawyers," he laughs. "If you could keep TVA out of the news, it was better than being in there."

We sit under a covered pavilion at his Bluebird Christmas tree farm on Brushy Valley Road as we talk. Collins says that in the early years, TVA listened to the botanists out of self-interest. Later — "It took decades," he says —more and more of the engineers were really trying to do the right thing.

"It's as easy to do the right thing as the wrong thing, as long as you know what the right thing is," he says. "So, the job kind of got easy. There was less resistance."

Collins is still passionate about conservation and takes painstaking effort to care for his Christmas trees. Just recently, he had to handpick Nantucket pine tip moth larvae off of each branch. The moth had migrated to his farm last year, but it was just a nuisance. This year, it evolved into a problem.

"It's just a little white and brown moth, about a quarter inch long," he explains.

"It will land and lay eggs, and when they hatch, the little larvae drill down into the tip! And it kills the buds. So, you have this brown all over the place."

He's had the farm for 37 years and has never seen anything like it.

Problem solving is what he does best, and this particular problem is finally solved. The trees will be healthy and green this year despite the setback.



LaFollette resident Joe Bonomo is a prolific, successful artist, and is passionate about portraiture. He spent many hours in Anderson County photographing people in town and learning a little about them, and then going back home and creating their portraits.

To find out more about Bonomo's art, visit bonomoart.com, on Facebook at Facebook.com/artofjoebonomo, and on Instagram at @bonomoart.

This series, however, is only available in The Courier News.