ACHS earns shutout, wins 26-0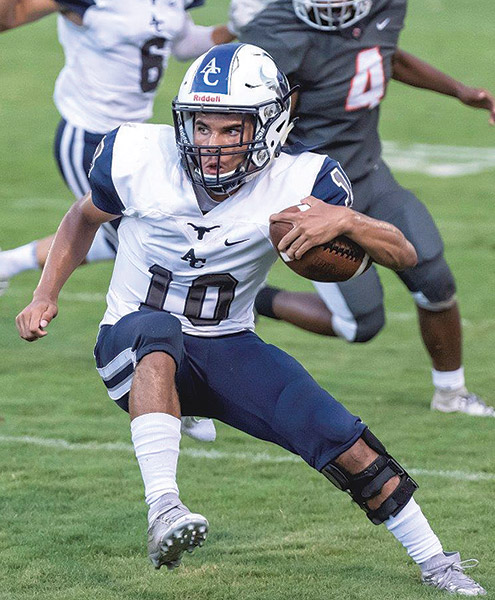 Clinton and Anderson County came together on Friday, Aug. 23 to open their seasons in the storied Battle of the Bridge.

The final score was 26-0.

The first quarter, both teams seemed remarkably evenly matched, with neither team scoring.

Both brought their A-game and showed just how much work they put in during the off-season. Smoke carried the smell of cooking meat across the crowded stadium and away into the evening as the crowded bleachers erupted in periodic cheers from losses and gains and passes and blocks.

Halfway through the second quarter, though, a third opponent was introduced to a game that should only ever have two teams.

Halfway through the second quarter – it began to rain. It wasn't a light sprinkle or mist, either, but a heavy, soaking wave swept back and forth by the wind. Some in the crowd pulled ponchos and trashbags over their head as others opened umbrellas.

Anderson County scored directly as the rain began from a completed 45-yard pass to Brandon Seldner from Stone Hatmaker, but after that – it began to get hairy.

Together, both teams fumbled ten times, with Anderson County fumbling seven times to Clinton's three. Quarterbacks had trouble keeping hold of the slick wet leather during the snap, and during rough tackles. One of the most interesting plays of the entire night could arguably be said to have occurred as a direct result of the rain. Clinton's Bryce Collins, during a punt in the third quarter, received a ball that was a little too slick for him to hold on to. The delay while he tried to gain a grip on the ball was just enough that, by the time he managed to kick, Anderson County had broken the defenders and AC's Kaleb Livinston blocked the punt. It was quickly recovered by Anderson County's Mason Fields, who ran it the 18 yards needed for a touchdown.



Clinton, despite ultimately losing, came to play as well, with an amazing interception by Conner Moody on a critical play that very well could have ended in an Anderson County touchdown were it not for him.



Until the half, both teams seemed evenly matched, but, whether it was the rain or the fatigue, or one of those famous halftime speeches from the movies that coaches are supposed to give, second half Anderson County was an entirely different beast from first half Anderson County, and they simply pulled away from Clinton.



That being said, they certainly had more penalties than Clinton, with 7 penalties totaling 80 yards, relative to Clintons 5 totaling 39 yards. There were a number of personal fouls and some altercations on the field between players that, judging by the body language alone, weren't friendly, especially after the only sack of the night from Anderson County's Russell Lindsay.



To add insult to injury, Anderson County continued to drive their score up with a 23 yard field goal in the fourth quarter by Daniel Bethel and a safety when Clinton's Eli Deshomme was tackled backwards into the end zone.



In fact, Clinton outperformed Anderson County in rushing and time of possession, rushing for 122 yards to AC's 120 holding the ball for 29:52 to AC's 18:06. In fact, Anderson County only had two more first downs than Clinton, with the former having 13 and the latter having 11. Blake Cooper, Eli Deshomme both rushed for over thirty yards a piece, while Connor Moody came in with 29 rushing yards, showing why Clinton has it's reputation as a running team.



Ultimately, Anderson County won the Battle for the Bridge again, marking the tenth year of their win-streak against Clinton, who last won in 2009. Both teams played hard, and as Clinton continues to grow under Coach McKamey, they look better every year.



And hey – at least there weren't any fights.