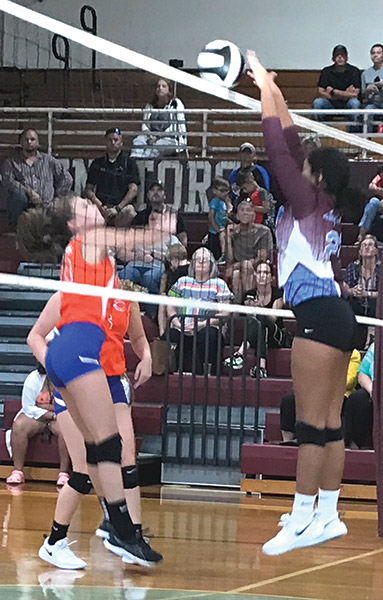 The Norris Middle School Volleyball Team completed a regular season sweep of Clinton Middle School last Thursday with a 25-13, 25-21.

In front of a large and raucus crowd Norris jumped out to a 9-4 lead in the first set off the tough serving of Madison Phillips. Clinton made a small rally winning the next 2 points before 7th grade right side hitter Caitlyn Tackett toed the service line and ripped off 9 straight points to bring increase the Lady Senator lead to 19-6.

Once again, Clinton rallied with a scoring run of 5 points but Norris closed out the set 25-13.

The second set was a much tighter affair with 6 ties. Norris jumped out to a 12-6 lead before Clinton tied it up at 13-13. After trading several points, NMS 7th grade outside hitter Jada Seiber served up 4 straight including an ace to take the Lady Senators to a 22-16 lead.

A late run by the Lady Hawks brought the score to 23-20 and forced the NMS Coach into a timeout before Norris earned the last 2 points to close out the set 25-21 and win the match.

Next up for Norris was the Cross-Dam Rival Lake City. The Lady Lakers came out prepared for the undefeated Lady Senators. Set number one was a back and forth battle with both teams having set points.

With the set knotted at 25-25, the set had to be decided by two points.

Two more serves brought another tie at 26-26 before Lake City won the last two points and the first set 28-26.

The second set was not nearly as close as the hitting and serving power of Norris overwhlemed the Lady Lakers. Off the pinpoint setting of Ebby Mayes, NMS hitters Emily Mustard, Kyra Damewood, Emma Neff, and Jada Richards tore up the the Lake City defense. When Lake City was able to attack the Norris defense, libero (defensive specialist) Haven Swanner and Caitlyn Tackett scooped up the spikes and turned them into Lady Senator points. Service points where added by specialist Madison Phillips as Norris cruized for the win 25-16 and setting up a decisive set three.

Set number three was a tail of two halves, Norris domintated the first half of the set leading 9-6. Lake City never gave up and reeled off the last eight points of the set off of Lady Senator errors to win the set 15-10 and secure the match win. The rivals will meet again, this time in Rocky Top at Lake City Middle School on September 17. The now 8-1 Lady Senators have a big Area 2 dual match on Thursday, September 14 versus Robertsville and Jefferson. Those matches will be played at ACHS and begin at 5:30. Admission is only $3 so come out and see the girls in action.