Murphy's Law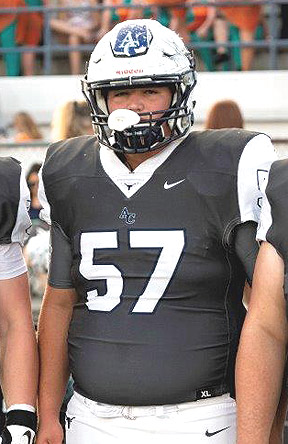 Anderson County High School senior Matthew Murphy is a laid-back guy.

He's very polite, answers questions honestly and without hesitation, and has a quick grin.

He's a lineman on the Maverick football team and he loves playing the position.

He'd rather play against an opponent he doesn't know than against friends because he can get intense of the field.And he loves it when his Mavs are 21-point underdogs.

"I love playing those games," he said.

Before games he spends time meditating in the Mav weight room, laying in front a fan listening to music, getting ready mentally for the game.

Playing in a region that features long road trips to Chattanooga, Murphy said he actually likes the trips.

The ride is a charter bus always features entertainment — he recalled watching a Maverick highlight film — and then the team gets a meal. Once that meal is finished?

"It's like someone flips a light switch," he said. "Everybody gets in the zone."

Murphy said "four or five" colleges have expressed interest in him extending his playing career at their schools, but right now he's concentrating on the here and now.

"I think we'll win state this year," he said. "I really do."

Eight quick questions:

If you weren't playing football you'd be …

Riding a motorcycle.

What music are you listening to now?

Country.

Last book you read?

The Bible.

What do you do to relax?

Lay in a pool on a float.

If you could have a conversation with one person, alive or dead, who would it be?

Everyone I know or have known (Murphy said he "loves" to talk).

Best memory as a child?

Going to my great-grandfather's house and spending time with him.

Best day of the week?

Saturday.

Favorite teacher?

Mrs. Watson.

Twenty years from now you want to be remembered for …

A person who liked to have fun, but also do the right thing.