Hawk Talk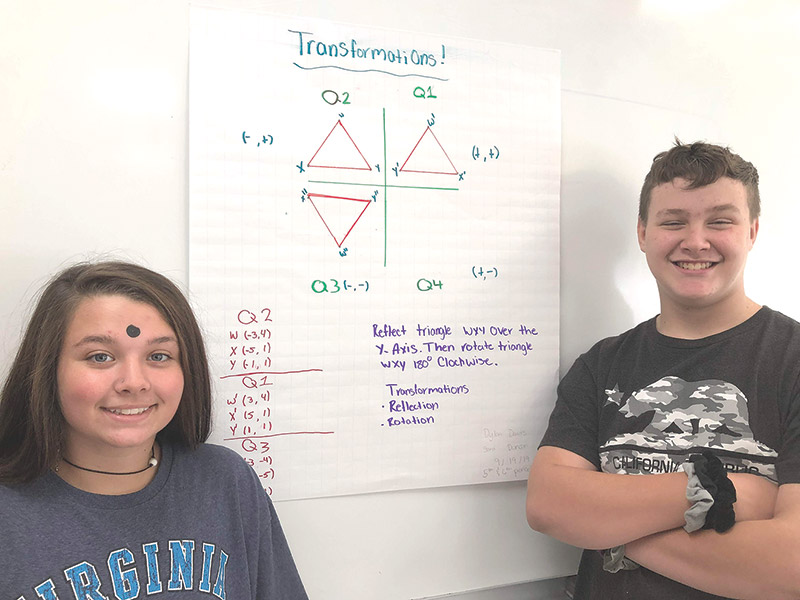 Back again! With more stories from the halls of YOUR hometown middle school.

You will find short pieces below related to areas of learning and fun in our building from Classes and Sports to Hawk Life, Student Spotlight, and our new focus on College & Career awareness.

Showcasing a wide variety of the positive happenings at Clinton Middle School: College and Career Academy (CMCCA) is Hawk Talk's first priority.



Math classes crunching the numbers

by Marissa Eccles, Jasmine Erick, David Holguin

Math classes here at Clinton Middle College and Career Academy are currently working on many different subjects in their math classes that will help them in future careers.

Eighth grade algebra classes are currently working on systems of equations, and are about to be moving on to systems of inequalities.

According to Mrs. Land, "I believe that this new curriculum has been very useful and positively influencing our students.

"We are currently using past 8th grade math books to help teach our students, where in the past we didn't have any reliable sources."

We talked to Allyson Bender an eight grade Algebra student, and she said that, "We are currently working on finding slope in equations, graphs, and ordered pairs. And the use of chromebooks has made homework all the more easier."

Eighth grade math classes are working on finishing transformations and are moving on to angle relationships in triangles and parallel lines.

Land states, "This curriculum is very effective for her students by providing excellent examples."

We then went to talk to Teegan Bollinger, an eighth grade math student, he explained, "We are currently working on the transformation of angles, and I enjoy the use of Chromebooks. Being able to use many different types of online sites has helped me learn much easier."

Seventh grade pre-algebra and standard math classes are currently working on the same thing, working on combining positive and negative integers.

According to Land, "The chromebooks have a positive impact on the students because we use them everyday for their bellringers."

Rebecca Cardell said, "We do work in our Eureka Books and math games on the chromebooks" she also said "The chromebooks have a positive impact on the class and students."

Sixth grade math classes are currently working on dividing fractions.

Ms. Fox says the curriculum, "does a great job of providing the rigger that they need for the TCAP test at the end of the year."

We talked to a sixth grade math student who said that they do Khan Academy, IXL, and worksheets in class. These varied types of online sources have helped me to better understand what is happening in my class.



Community Service team provides

spaghetti luncheon

by Mia Baylis, Blayk Hazelhurst, Reese Rittenberry, Tomi Taylor

On Sunday, Sept. 22, students and staff from CMCCA decided to partner with Zion Baptist Church to host a spaghetti luncheon for the Clinton community.

Together CMS and Zion made 80 to-go meals, seven large pans of spaghetti, green beans, rolls, and canned food for the community members to take home.

Pam McCrary, seventh grade teacher, said, "All we did was serve our community." This year students and staff are ready to go out and serve even more.



CMS Players back in action as part of

Explore to Soar

By Emma Vaughn, Jordan Pridemore, Ethan Clock

Drama at Clinton Middle has now started...the theater kind.

On Sept. 16, Hawks gathered to kick off another year of theater production as part of the CMS Players Drama Club.

Students attending drama club will be a part of upcoming school plays and other events. You must have a grade percentage of 75-percent or better to enter the program.

Eighth grade ELA teacher Kathy Lauer, also co-director of the program, had this to say about it, "Drama is full of magic, fun, and imagination. Storytelling at its best."

We look forward to another year of great performances.



Fall sports regular

seasons come to a close

by Rylee Gann, Eric Page, Hayden Scarbrough, and Rhett Seivers

This past week, our CMCCA Fall sports have come to an end.

The Hawks football team played its last game of the regular season against CAK before ending up with a hard-fought playoff loss against the Robertsville Rams.

Football player Javon Rodd said, "The coaches are like my second parents, because I'm around them 24/7, they have been there for me for the past three years so we're family now."

Quarterback Bryson White said, "It's an honor to be on the team but it's more of a family than anything, the relationships that are made from the sport are truly amazing and I'm bloodthirsty for the playoffs for the season to come."

Running back Teegan Bolinger said, " The coaches support us and treat us like family. They always push us to do our best and put us in the right spots in order to execute best."

All of the football players are ready for next season to come, many looking forward to wearing the orange and black as Clinton High School Dragons.

The CMCCA volleyball team ended one of their last games with a win, ending a historic season for the program.

The Lady Hawks came out placing second in the district and are on their way to sectionals.

We wish them the best of luck.

Until next week...