Clinton earns shot against Lady Mavs in Dist. 4-AA volleyball tourney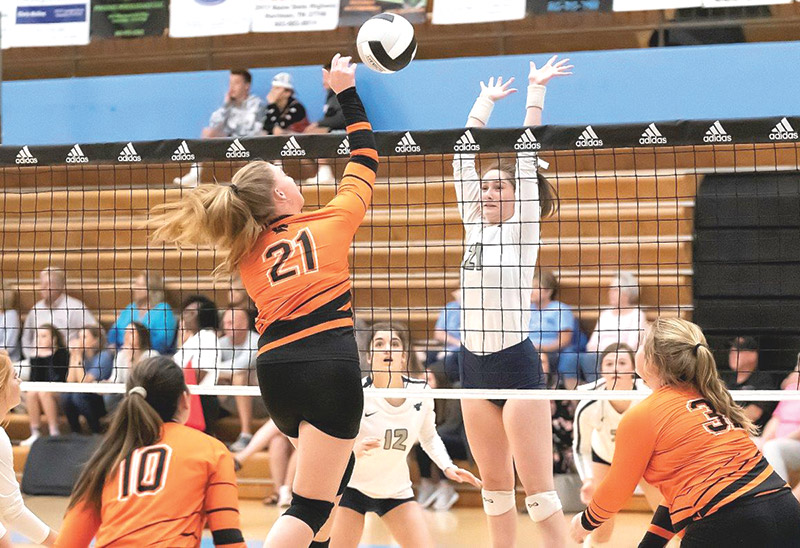 A little extra work paid off for the Clinton High School volleyball team last week and the Lady Dragons, who have had their share of struggles in 2019, picked up a district tournament win.

It took four sets but Clinton outlasted Union County 21-25, 26-24, 25-23, and 25-14 in the opening round of the District 4-AA Tournament on Tuesday, Oct. 8, at Gibbs High School.

The Lady Dragons were eliminated in three sets by crosstown rival Anderson County (which went on to beat the host Lady Eagles in the championship match).

But Clinton (7-23), who was able to beat the Lady Patriots after dropping the first set despite having leads of 8-4, 14-11 and 16-14, did some extra work in practice before heading to Northeast Knox County.

"We've been having trouble with our serves, keeping them on the court, and keeping the ball on the court," said longtime Lady Dragons Coach Susan Zellner. "We worked on that and we did a little better with it tonight.

"We did a good job keeping the ball in play tonight. We've been knocking balls out of play.

"But tonight, we did a better job keeping the ball in play. We've also been serving the ball out."

Clinton got a big spark from Aleah Leggett and KimMiyah Woodard against the Lady Patriots.

Leggett served up the set point in the second game. With the Lady Dragons trailing 22-19 in Game 3, Woodard had a service run to help Clinton take a 24-22 lead. She tied the set at 22 with an ace. The Lady Patriots pulled to within 24-23 with a side-out before Clinton took a 2-1 lead in the match with a side-out of its own.

In the third set, the Lady Dragons found themselves 6-0 as Union County's Kailyn Griffey served up the first six points of the set.

In the final game of the night, Clinton got the first three service points from Leggett, and the Lady Dragons would never trail. Leggett had four aces in the set while Savannah Norman had two and Emma Clevenger had one.

All-Tournament Team: The Lady Dragons had Cheyenne Fox and Norman named to the all-tournament team.

All-District Team: Four Clinton players were recognized by the league's coaches for their accomplishments during the regular season. Norman, Woodard and Abby Bowling were named to the all-district team while Fox received an honorable mention.