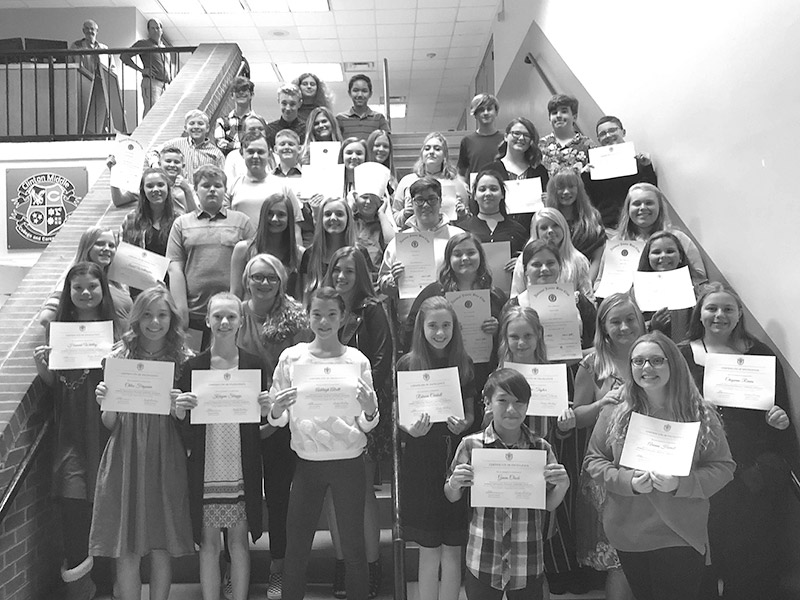 Back again!

With more stories from the halls of YOUR hometown middle school.

You will find short pieces below related to areas of learning and fun in our building from Classes and Sports to Hawk Life, Student Spotlight, and our new focus on College & Career awareness.

Showcasing a wide variety of the positive happenings at Clinton Middle School: College and Career Academy (CMCCA) is Hawk Talk's first priority.



New members inducted into National Junior Beta Club

by Marissa Eccles, Jasmine Erick, and David Holguin

Clinton Middle School's National Junior Beta Club had an induction ceremony to welcome new members on Oct. 17, in the CMCCA auditorium.

This ceremony made all our new inductees official members of this club.

Being inducted is a huge honor and we are glad to have a new and bigger academic club.

The National Junior Beta Club is the largest nonprofit educational children's organization in America.

National Beta is founded around four pillars: achievement, character, leadership and service.

Seventh-grade ELA teacher Mrs. Loveday sponsors this club at Clinton Middle.

The induction ceremony was led by previous members, who were also recognized at the ceremony.

Clinton Middle staff is so proud of everyone who is a part of Beta and hope they do great things this year.



Community event to offer message on online dangers

by Hawk Talk Staff

Are you curious about what your children are accessing when they are on their phones?

Have you wondered about the different apps they download and what they might be for?

Have you ever been concerned about who your child may be talking to online or if it is even safe to let them on certain applications?

If you have ever asked yourself any of these questions, then please join us for a night of enlightening information during which trained professionals will talk about what apps are safe and what dangers may be out there lurking anonymously behind that computer (phone) screen. Join us to talk about keeping your children safe when they are online!

On Tuesday, Oct. 29, Street Hope TN will be at Clinton Middle to address the current issues on young people and internet use.

The event will coincide with a taco dinner, provided by the Hawks Culinary Arts program, as well as a Halloween dance in the gym for all Clinton Middle students.

The dance will be free for all those whose parents attend the Street Hope TN event.

Street Hope TN works in conjunction with law enforcement agencies and the Department of Homeland Security.

Methodist Medical donates new AED machine

by Mia Baylis, Blayk Hazelhurst, Reese Rittenberry,

and Tomi Taylor

On Oct. 14, Methodist Medical Center donated a new Automated External Defibrillator (AED) to Clinton Middle College and Career Academy.

The AED is a medical device that can save a person from cardiac arrest. This medical tool has saved two children in Anderson County in recent years.

This helpful device makes the students feel important and safe. It is important to get a new one every 10 years.

One student told us, "I am glad to know there is an AED. in case there is ever a need for one."

Students at CMCCA are glad to know that they are safe in any type of cardiac emergency.



Art students brighten up Clinton Middle hallways

by Ethan Graham, Andelynn Lawson, and Braylon Taylor

Mr. Richardson's Art classes represent another creative edge to our Related Arts program. The projects that these students create are truly unique.

One of the projects they are working on is painting and designing ceiling tiles around the school for some decorations and life in the classrooms. Another thing they are working on to make the school more decorative is the monthly hall art.

The monthly hall art features work created by sixth, seventh and eighth grades to be displayed in their hallways in the school. It really adds something unique to Clinton Middle School.

Students from the class put their best efforts into making really great artwork to get judged and see who has the most eye-catching art.

Aside from the students, Mr. Richardson is really excited for the future experiments and the potential of the program and how far it can go.

Until next week...