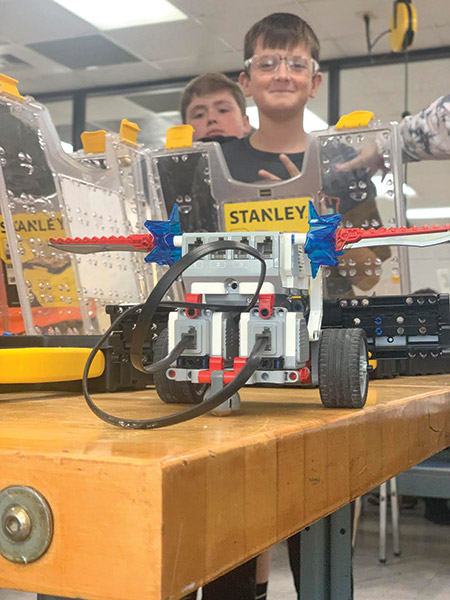 Back again with more stories from the halls of YOUR hometown middle school.

You will find short pieces below related to areas of learning and fun in our building from classes and sports to Hawk Life, Student Spotlight, and our new focus on College & Career awareness.

Showcasing a wide variety of the positive happenings at Clinton Middle School: College and Career Academy (CMCCA) is Hawk Talk's first priority.



Hawk Time supports and enriches all Hawks

by Mia Baylis, Blayk Hazelhurst, Reese Rittenberry,

and Tomi Taylor

This year at CMCCA, during 4th Period, all our students are attending Hawk Time classes. This week we will be focusing on the eighth grade.

One eighth-grade teacher from each department (English, science, math, and social studies) is working with students on standards remediation. Standards remediation gives students the opportunity to accomplish their goals.

However, most Hawk Time classes, including this one, Hawk Talk, allow students to participate in enrichment activities such as yearbook, science literacy, and robotics.

Team CMS hits the streets for the

Clinton 5K

by Eric Page and Rylee Gann

On Saturday, Oct. 19, the Clinton 5k run took place in Downtown Clinton.

All of the profit from the race went to the school systems.

The 5K was a fun, healthy, easy way to raise money and to get the community involved in our town and our schools. .

Six students from CMS attended the 5K. Mrs. Johnson, a CMS PE teacher, told us, "It was great. It was a beautiful morning."

She also took first place in her division.

In total, 212 runners showed up in support of the fundraiser. This was a great opportunity for the community and shows how much we care about our schools.



Science in every grade level

by Marissa Eccles, Jasmine Erick, David Holguin

Sixth-grade science classes here at CMCCA are talking about the transfer of energy through ecosystems.

Teachers and students both agree that the curriculum is helpful and effective in their learning experiences.

Seventh-grade science classes here at CMCCA are learning about "cells, and how they are the building blocks of life, and the building blocks of matter, atoms," Ms. Patalano told us.

This year the whole goal is to be able to explain how cells grow into major organisms.

Eighth-grade science classes here at CMCCA are learning about Newton's Laws of Motion.

Those laws are Newton's Law of Inertia, Newton's Law of Acceleration and Newton's Law of Force.

We can't wait to see these eighth-grade students use these in everyday life at school and various places.



Career exploration offers just that for

Clinton Middle

students

by Ethan Graham, Andelynn Lawson, and Braylon Taylor

This year in Mrs. Claiborne's Career Exploratory class, the students are working on finding what careers might be the best fit for their lives.

She is really pushing the students to find their interests, be better persons and what to make of their future.

Mrs. Claiborne says, "The year is going great and the students are already learning."

The students take surveys and work through projects to consider the 16 career clusters and ultimately begin to make plans and goals for a future of learning and hard work.

Until next week...