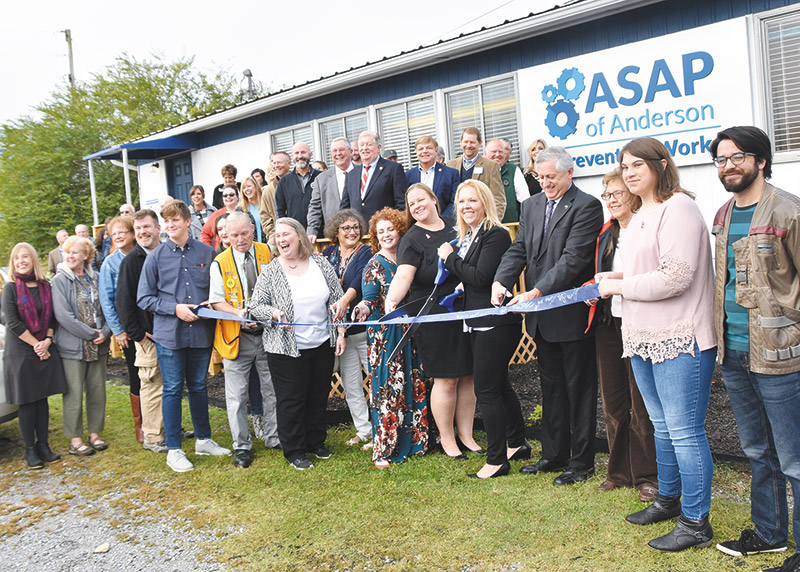 Community members and staff of ASAP of Anderson (Allies for Substance Abuse Prevention) gathered Thursday (Oct. 24) to dedicate the new headquarters of the nonprofit organization in Clinton.

ASAP moved into its new quarters at 131 S. Charles G. Seivers Blvd. in June, after spending the past eight years on the fourth floor of the Robert Jolly Building on Main Street.

Both the previous and current headquarters locations were provided by Anderson County Schools.

The new quarters are in a portable building at street level, which was renovated and customized by volunteers over several months prior to the move-in date.

Executive Director Stephanie Strutner spoke to the group of about 50 people who gathered at the new headquarters Thursday morning for the celebration and open house, followed by a ribbon cutting outside, conducted by the Anderson County Chamber of Commerce.

"What a special moment this is," Strutner told the group. "I honestly have been reflecting over the past several days about what a long time coming this has been. I'm totally overwhelmed by the support of this community to the work that we do here at ASAP of Anderson.

"The beauty of the work that we do, it's not our staff, it's not just one of us, but it's all of us. … We celebrate our entire community, because we all play a role in prevention here in what we do."

Strutner read a state Senate proclamation from Lt. Gov. Randy McNally praising the 11-year-old organization for its efforts toward drug-abuse prevention throughout Anderson County.

As for the new headquarters, Strutner said, "This building was a very special gift to us. (Anderson County Schools Director) Dr. Tim Parrott had a whole lot to do with that. … The Board of Education and the school system [have] always been so supportive of ASAP and our mission, so we want to say a special 'thank you' to you all for what you do."

She also noted that, "We had a whole lot of people who really helped us make this building feel like home."

Renovations included new floors and paint, new entrance steps, a handicapped-access ramp out front, and other work. Strutner thanked Anderson County Sheriff Russell Barker and Corrections Officer Pete Sexton, who organized the work on the building by the county jail trustys, and the Clinton Lions Club, whose members built the new entrance steps and handicapped ramp.

Coalition volunteers also helped, including painting the walls. Students from the Jones Center for Leadership at the University of Tennessee were credited with the landscaping work around the building.

"This allows us to be more focused on our mission," Strutner said of the new headquarters. "Before, we never had a place to host our own coalition meetings. Now we're able to do that here."

According to its website (asapofanderson.org), ASAP's mission is "to prevent and reduce substance misuse among youth and adults in Anderson County."

In the years since ASAP began, it has increased its annual operating budget by more than 500 percent, added to its staff, and "collaborated with community partners to reduce youth substance use by 53.5 percent," according to a news release issued in conjunction with the building dedication.