Overhead crane manufacturer will bring 50 new jobs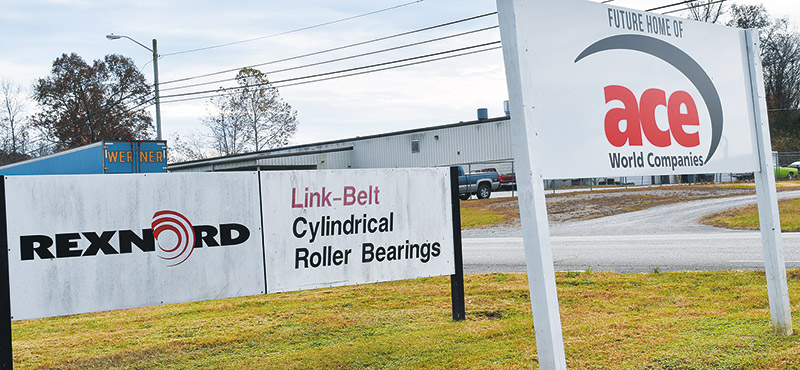 A Texas-based company that makes custom-designed overhead cranes and other materials-handling equipment will open a new manufacturing facility in Clinton early next year, bringing up to 50 new jobs, a company official said.

Ace World Companies of Fort Worth earlier this month secured a permit from the city of Clinton to build a $5.6 million, 55,000-square-foot addition to an industrial building at 250 J.D. Yarnell Industrial Parkway for its new facility.

The building is the former home of Rexnord Corp. roller-bearing manufacturing operation, which the Wisconsin-based company moved to Mexico in early 2016.

Ace World Companies is moving its current Knoxville operations to the new Clinton site "in January or February," and will initially hire 40 to 50 people, Ace Executive Vice President Kevin Beavers said at the Clinton building site last week.

The company specializes in overhead cranes, also known as bridge cranes, but also provides other products, including wire rope hoists, end trucks and transfer cars, according to its website.

It has been in business since 1987.

Beavers, who's been with the company nine years, said the actual opening date of the Clinton plant "depends on how the weather holds."

Ace bought the former bearing plant last February, and renovation and reconfiguration of the facilityhas been underway since July, Beavers said.

Contractor for the new section of the building is Christopoulos & Kennedy General Contractors of Knoxville, according to the building permit, which lists the job as a "commercial addition."

According to its website, Ace World Companies serves industries such as concrete, pulp and paper mills, oil and gas, shipyards, lumber, steel service centers and mills, aerospace, marine, automotive, manufacturing, power generation and mining.

"We are a renowned overhead crane manufacturer based in the United States offering a complete range of industrial overhead cranes worldwide," the website notes.

"Since 1987, Ace World Companies has supplied the industry with American-made, custom designed material handling solutions."

The current Ace facility in Knoxville is at 200 W. Quincy Ave.

Ace World Companies' only other manufacturing site is in the Fort Worth area.