Lady Mavs lose two close games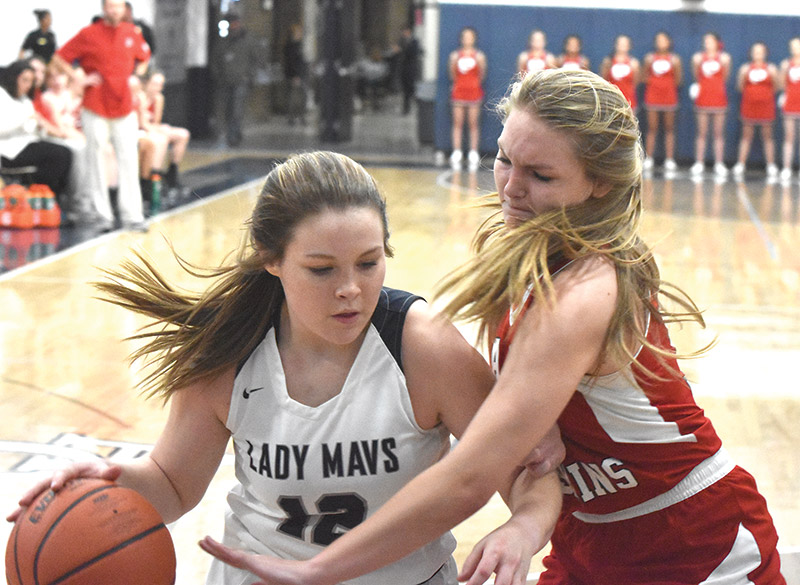 The Anderson County Mavericks swept their two basketball games last Saturday at home as they defeated Lenoir City 65-47 before besting the West Knoxville-based Ambassadors home-school team 61-45.

The Lady Mavericks, meanwhile, dropped both of their Saturday home games as they suffered a 64-30 defeat at the hands of Lenoir City before taking Greenback to overtime before coming up short 47-43.

Mavericks' Coach Derek Wallace and Lady Mavericks' Coach Mike Ellis said their teams are playing with inexperienced players on the varsity level, but getting different results.

"Before last Tuesday night, none of our starters had ever started a high school game," Wallace said of his 3-0 Mavs, who were scheduled to play in a three-night tournament in Oliver Springs this week. "We need to build out maturity level, but this 3-0 start shows we are making early progress and it is always good to start the season 3-0. We just have to keep working at getting better, which is why these early games are so important."

Lady Mavs Coach Ellis said the learning process is even deeper for his team as it started the season 0-3.

"We're very young and have a lot to do," Ellis said. "We hung in there against Greenback and weren't able to stop them from tying at the buzzer to end regulation before they were able to get the better of us in overtime. The game got away from us, but maybe we can learn from this."

In boys play, the Mavericks put distance between them and Lenoir City during the second period.

Leading 16-14 after eight minutes, the Mavs outscored the Panthers 20-8 during the second period to hold a 36-22 advantage at the intermission. Each team scored 14 during the third period as the Mavs were ahead 50-36 with eight minutes remaining. That 14-point margin is the closest Lenoir City could come down the stretch.

Nick Reed topped the Mavericks' scoring with 16 points while Eli Varner and Trevor Stagnolia finished with 10 each. Stagnolia and Connor Martin hit two three-pointers each while Luke Lowery sank one.

Against the Ambassadors, the Mavericks were involved in a close contest early before gradually building their lead. Ahead 12-8 during the first period, the Mavs were up 30-17 at halftime and 44-29 after three periods.

Reed's 15 points topped the Mavs while Varner and Carter Jett contributed 14 and 11 respectively. Jett, Martin, Stagnolia and Stone Hatmaker hit a trey apiece.

The Lady Mavericks trailed Greenback by four with 25 seconds remaining in regulation before Lydia Meldrum and Ali Richards hit treys to put the Lady Mavs up by two with nine seconds to go. Greenback then hit a basket at the buzzer to force the tie. Meldrum's bucket and Kylee Alvis' free throw gave the Lady Mavs an early overtime lead, but some missed Anderson County shots and successful Greenback free throws proved the difference in the outcome.

Meldrum sank four treys and finished with 18 points. Ayreona Buckner sand two treys, finishing with 10 points.

The Lady Mavs fell behind Lenoir City early and never recovered as they were never closer than five midway through the second period. Buckner's 12 points topped the Lady Mavs, who will play in Friday and Saturday's Farragut Thanksgiving Tournament.