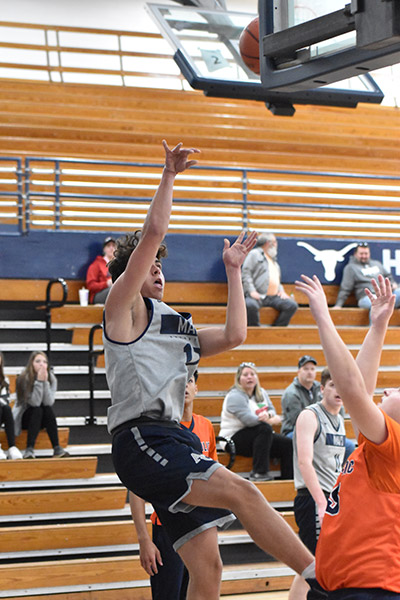 Anderson Count's boys lost 73-62 to Scott County High School on Dec. 17 in a face off against the Highlanders.

The boys' game started close with both teams taking and losing the lead multiple times in the first quarter. During the second quarter, Anderson County began to seriously pull away from the Highlanders, starting the third quarter a full 15 points ahead of Scott County.

Unfortunately for Anerson County, in a turn that's beginning to seem like a pattern for them, they couldn't hang onto that early lead.

Throughout the third quarter, the Mavericks' lead slowly dipped lower and lower until, midway through the third, they lost the lead and, try as they might, couldn't gain it back.

The Mavericks outshot the Highlanders in field goal percentage and effective field goal percentage both, finishing with a 63-percent effective field goal percentage.

The Mavericks also dominated in some less-than-stellar places as well, having nearly double the turnovers by the end of the game (23-12) and 15 personal fouls to Scott County's 11.

Four of those fouls came from Nick Reed, one of the Mavericks' high-scoring players besides Connor Martin and Eli Varner.

Varner finished the night with three fouls under his belt, and both players' high foul count may have been a reason for the inability of the Mavericks to keep the lead in the second half, as each player had to be used more sparingly to keep from being ejected.

Other notable stats for the night were Connor Martin scoring 24 points, and Luke Lowry finishing with a Value Points System score of 1.78, the highest of the night.

The Lady Mavs, unfortunately, struggled in their game from the beginning and didn't take the lead even a single time the entire game.

For such a young team, this is to be expected, especially against a veteran Scott team, and the stats reflect the contrast between the two teams, with Scott County dominating in every category. The Lady Mavs would wind up losing 66-38.

The lead scorer for the night was Ali Richards, with eight points, and behind her came Abby Dople with seven and Kylee Alvis with six.

Lydia Meldrum dominated on the rebound front, finishing with an astounding 10 rebounds to her name before the end of the night, three offensive and seven defensively.